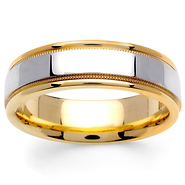 Buying the perfect wedding bands is one of the most important decisions you will make when getting married. While all jewelry is symbolic in one way or another, wedding bands represent a lifetime of love and commitment - that's a tall order for a pair of rings - and with so many options out there, the choices can be overwhelming. Here are some tips for buying the perfect wedding bands that will make the process easier and more enjoyable:
TIP #1
Determine how much you will spend on your wedding bands based on what you can afford right now. If your budget is currently limited, you can always upgrade your ring or buy anniversary rings later on. This step is important to figure out first because with so many stunning choices to choose from, you will know where to focus your search and limit any financial stresses.
TIP #2
Decide if you want your wedding bands to match. Having matching wedding bands can send a powerful message of commitment to the world. Bride and groom wedding band sets come in a variety of styles, from bands which look exactly alike apart from different widths for the bride and groom TO bands which are similarly styled but come in slightly more masculine and feminine versions.
TIP #3
Whether or not you go for matching wedding bands or individual styles to suit the bride and groom's personal tastes, the next choice is which metal you desire: yellow gold, white gold, rose gold, two-tone, or platinum. Yellow gold wedding bands are the most popular choice, but two tone rings are gaining in popularity because they do not clash with any other jewelry you might want to wear. People who mainly wear sterling silver jewelry generally choose platinum or white gold rings to match their jewelry. For a more distinctive, elegant look, some people prefer rose gold.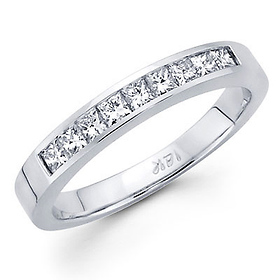 TIP #4
When you've settled on a material for your wedding bands, now it's time to look at styles. There are plain wedding bands, carved or etched wedding bands, braided wedding rings, Celtic styles, and sterling silver bands that are embellished with diamonds or other precious stones. In most cases, a choice like this will be purely personal preference, but some of these styles do have symbolic or religious significance. For example, traditional Jewish weddings require a plain gold wedding band because it is an unbroken circle symbolizing the bond of marriage, and Celtic wedding bands incorporate ancient and powerful cultural emblems of commitment, making them a popular choice even among people without Celtic heritage.
TIP #5
Some brides prefer to have an engagement ring and wedding band set where both rings match and fit together, so that they can wear both their engagement and wedding rings on the same finger comfortably and stylishly. If this is your preference, there are many engagement and wedding ring sets available in a variety of styles and the groom can find a wedding band pretty easily that matches or compliments stylistically his bride's wedding band.
When purchasing wedding rings, remember that perfect wedding bands are a personal choice. Though the options may be numerous, it is worth taking the time to look at all of them in order to make sure you're happy with what you picked, especially since wedding bands are the one piece of jewelry you will be wearing for a lifetime.
***
If you have any questions about jewelry, call Customer Service toll free at (888) 223-7056 during our business hours. We'll be glad to help.
Related Jewelry Buying Guides: