Men's engagement rings are a growing category in wedding jewelry, as many modern couples believe that it is equally important for the groom to have a visible symbol of commitment during the engagement as it is for the bride. These rings are especially popular for couples who may be separated by distance during their engagement, and some men simply enjoy wearing jewelry and are happy to have the additional piece as a constant reminder of their fiancees. Following are the top five men's engagement ring styles: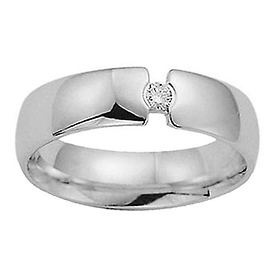 Plain Bands
Plain bands are a popular choice for men's engagement rings because they offer a simple, traditional masculine style. In many cases plain bands that are intended as men's engagement rings rather than wedding bands are significantly wider than the traditional mens wedding bands, so that they are not mistaken for wedding rings but look more like regular decorative jewelry.
Carved Bands
Carved bands are also a popular choice for mens engagement rings. Carved designs on these engagement rings can range from simple etchings to elaborate carvings such as rope designs which help symbolize eternity. In addition, religious symbols such as crosses or Stars of David are popular for this type of ring. Click here to see our Carved Bands collection.
Two-Toned Bands
Besides plain bands and carved bands, mens two-tone bands are popular for men's engagement rings because they can be worn with any other style of jewelry without clashing. These dual tones can range from white and yellow gold to black tungsten mixed with titanium, and often the textures of the two tones are mixed as well to provide added interest. Click here to see our Two-Toned Bands collection.
Diamond Rings
As the diamond has come to universally symbolize engagement, engagement rings for men frequently feature diamonds just like their fiancees do. However, in the case of men's diamond engagement rings, the diamonds are usually smaller accent pieces rather than the focus of the piece. For example, rather than a diamond solitaire, a men's engagement ring might feature three smaller round stones in a row. Click here to see our Diamond Rings collection.
Rings with Other Precious or Semi-Precious Stone Accents
Some men prefer stones with color. Popular precious and semi-precious stones for men's jewelry include rubies, sapphires, and onyx, so men's engagement rings incorporating these stones may be a good choice depending upon your fiance's style. Click here to see our Gemstone Mens Ring collection.
As you can see, men's engagement rings vary widely in style and should be considered distinct from the wedding band. If you wish your fiance to have a tangible symbol of your commitment during the engagement period, there are options available for every taste and budget.
***
If you have any questions about jewelry, call Customer Service toll free at (888) 223-7056 during business hours or email us. We'll be glad to help.
Related Jewelry Buying Guides: