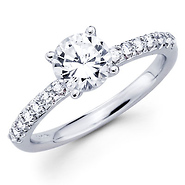 One of the most important matters to take into consideration when buying diamond engagement rings, diamond studs, and other diamond jewelry is diamond cuts. While quality and color strongly influence the value of the diamond, the cut has the biggest impact on the style of your ring. The following is an explanation of some of the most popular diamond cuts:
Round Brilliant Cut
Round brilliant stones are the most popular diamond cuts. Also known as the brilliant cut, because it provides the most brilliance and fire, the round diamond goes with a wide variety of settings, from the simple solitaire to elaborate modern mountings. If how much the diamond sparkles is important to you, choose the round brilliant cut for best results.
Princess Cut
The princess cut is the second most popular cut for diamond jewelry, especially princess cut engagement rings. Like the round cut, it provides a good amount of brilliance, but its square or rectangular shape makes it slightly less expensive than a round diamond of similar weight because more of the rough diamond is retained.
Radiant Cut
Radiant cut diamonds are similar to princess cut diamonds, as they also appear square or rectangular in shape, but their corners are cut like an emerald cut. The radiant cut is especially suitable for colored diamonds, as the cut makes the color appear more intense.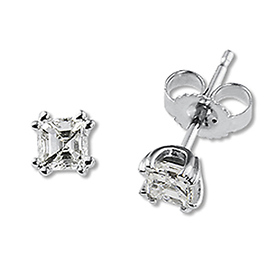 Emerald Cut
Emerald cut diamonds are rectangular diamonds with cut corners and stepped facets. This shape is ideal for rough diamonds with excellent clarity, as you can see through straight to the base of the diamond and therefore showcasing the lack of occlusions. Emerald cut diamonds can appear larger than other cuts of similar weights because of their flat surface.
Asscher Cut
Similar to the emerald cut, asscher-cut diamonds appear square but have cropped corners and a series of steps, or facets, along the sides, creating a mirrored effect. Vintage asscher cut diamonds have more of an octagonal shape with deeper truncated corners and less facets. This cut has become a fashionable favorite for Hollywood starlets. Asscher-cut diamonds have perfect symmetry, and because a large part of their appeal is the stylish cut itself, they look best in settings where the main stone is the focus.
Cushion Cut
Cushion cut diamonds have a romantic vintage appeal. Though they are generally rectangular in shape, the corners are rounded and they are cut with larger facets to increase their brilliance. This style is very common in genuine antique rings, and modern cushion cuts are often set in classic settings to capitalize on that nostalgic feel.
As you can see, the cut of the diamond is the first and most important decision you can make when purchasing an engagement ring, diamond stud earring, and other diamond jewelry. Focus on the cut you want first, and once you've determined the cut, it will make other decisions like color, clarity, carats, and setting much easier.
***
If you have any questions about jewelry, call Customer Service toll free at (888) 223-7056 during our business hours. We'll be glad to help.
Related Jewelry Buying Guides: