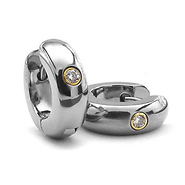 Though gold jewelry is our most popular metal jewelry option here at GoldenMine.com, there are several other options for contemporary, semi-precious metal jewelry, whether as settings for gemstones or as beautiful pieces in their own right. Customers may choose these jewelry types for a variety of reasons, including price, durability, or style. Here are descriptions of the most popular contemporary metal jewelry types:
Silver
Silver is the second-most popular choice of metals for semi-precious jewelry apart from gold. Silver retains its value well and lends itself to the hands of the true artisan because it can adapt well to all styles of jewelry, from vintage to modern and from fashion jewelry to jewelry that is meant to mimic the look of priceless gems. Silver jewelry does tarnish more easily than gold, platinum, and contemporary metals and requires more care. Yet, tarnish can be removed easily with silver cleaners.
Titanium
Titanium has become increasingly popular as a contemporary metal for wedding bands, engagement ring sets, and other jewelry. The reasons for this are many: titanium is significantly stronger than gold, silver, and platinum yet really light in weight, resists both denting and major scratching, and can be re-sized. However, it's still prone to scratches and can bend if hit with a strong enough force, more so than gold and platinum. At the same time, it's less expensive than gold and platinum but does not cause irritation in people with sensitive skin the way other cheaper metals do.
In addition, titanium has a uniquely attractive appearance. It can mimic the look of silver, yellow and white gold, or platinum, and can also be colored black, copper, or other shades. Titanium can have a matte or polished surface. For this reason, titanium really lets the creativity of the jewelry designer shine and is a superb choice for those who want truly unique pieces.
Tungsten
Tungsten semi-precious, contemporary metal jewelry is another popular modern choice for mens wedding bands. Some people choose tungsten wedding bands and other jewelry because tungsten is a durable semi-precious metal available. It will resist denting and scratching (see video for example) even more than titanium and yet can be polished to a super-bright surface that gleams from across the room. Tungsten rings hold their shape and shine better than any other metal available on the market for wedding bands. These rings, however, cannot be re-sized and may shatter if they get hit really hard. Tungsten's highly scratch-resistance, dent-resistance, and polishing qualities make it an affordable jewelry option to consider.
Stainless Steel
Stainless steel can be a good choice for men's wedding bands or fashion rings because it is significantly less expensive than other contemporary metal options and yet still offers good durability. Stainless steel matches well with decorative accents such as leather or carbon fiber. In addition, some men choose stainless steel wedding bands as a "travel" version of their regular wedding band. This way they can still show their commitment to their spouse on the road without having to worry about their "real" wedding band being stolen.
Contemporary metal jewelry offers a variety of advantages beyond price. It's worth taking a look at, especially if your personal aesthetic is modern, because it significantly expands people's jewelry options in terms of style.
***
If you have any questions about jewelry, call Customer Service toll free at (888) 223-7056 during business hours or email us. We'll be glad to help.
Related Jewelry Buying Guides: