While wearing jewelry was historically an unpopular way for men to dress, men sporting necklaces, rings, and other accessories today is commonplace. The misconception that men who wear gold chain necklaces are rock star rebels is simply just a misconception. Earrings were somewhat of a fashion faux pas decades ago, but now, men wear earrings nearly as often as women. Rings were usually reserved for married men flashing a wedding band but are now worn for fashion and worn on other fingers than just the left ring finger. Cufflinks are also stylish accessories that men can wear not just for functional purposes. Since more men (and women as gifts) are purchasing these types of items, I thought it's fitting to list the fall jewelry trends for men.
Necklaces: not just for rock stars

Necklaces that include a pendant are hot items this fall. From the runway to the ski slopes, men can show off necklaces made from a variety of materials. Leather with a stone pendant is an option for those who wish to pull off a natural, earthy look. Platinum or gold chains with pendants can give an urban, sophisticated vibe. For sports fans, you'll notice that many athletes from football, hockey, soccer, and all major sports don thick white or yellow gold chains, and these necklaces will definitely be a hit this season.
Earrings: youthful rebellion or modern tastefulness?
In times past, earrings were a sign of rebellion, but today, they are found in guys of all ages. Most men moved from one piercing to getting both ears pierced. A popular earring choice is a diamond stud and not teeny, tiny one either. Although it can be pricey, a generously-sized diamond stud is tasteful. An alternative choice to a diamond is a large cubic zirconia stud. It possesses all the bling and sparkle of a diamond but can be significantly more affordable.
Rings: not exclusively for married men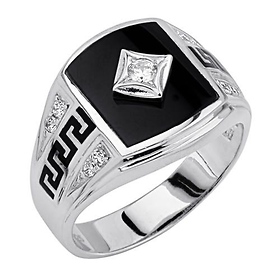 Once considered something only a married man should wear, rings are a popular way for men to wear jewelry today. Although there are no set rules as to what materials the ring should be made of, nor are there rules governing which fingers should wear them, keep in mind the message expressed in the wearing of jewelry. Similar to women's jewelry trends, the bigger the better is the idea for this fall, so choose large men's rings, such as huge skeleton rings or fancy CZ men's rings. A ring set with an attractive stone like an onyx or turquoise set in titanium or silver are also fashionable this season. Remember, big is in when it comes to rings.
Unique style with cufflinks
Besides going big on jewelry, you also want to stand out with unique cufflinks this autumn. When dressing up for a special occasion, like a matrimonial event, cufflinks might be just the right touch to make a man unforgettable. Don't limit their use merely to matrimonial ceremonies though! Cufflinks are popular jewelry items to send subtle classic or quirky messages about your personality. This fall, flatter yourself with an attractive cufflink that contains a semi-precious stone, symbols such as a fleur de lis or cross, or sayings such as "best man" or "guilty. not guilty." They add a stylish and distinct touch to your outfit.
Check out our men's jewelry collection here and be in style this fall!
Have any comments or questions? Please share in our Facebook page!