Ever since the discovery of pearls, they are held in the highest regard and treasured for their beauty and value. Almost every civilization has legends and stories that are associated with pearls. However, no one is absolutely sure when they were first worn as jewelry or who started adding these amazing products of nature to their jewelry pieces.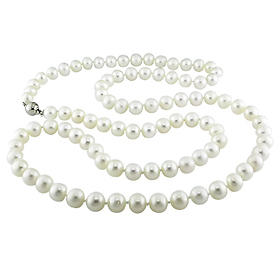 Although they are extremely rare in nature, pearls can be found in numerous places around the world. Before ways to culture pearls were discovered, shellfish that produced pearls become close to extinction from being over fished. However, culturing pearls also made them more readily available and much more affordable, which increased their popularity even more.
The most popular pearl jewelry contains colored pearls. A pearl that has a vivid, more uncommon color is much more valuable than white pearls because colored pearls are more rare than white pearls, which makes them more expensive. However, another factor that makes them more valuable is the high demand for colored pearls in the jewelry industry.
There is literally no limit as to what color a pearl can be. The body of a pearl can range between any color from white to black and can display overtones of various colors. These subtle overtones are caused by light hitting a crystalline substance close to the pearls surface that acts as a prism.
The most common overtones seen in white pearls include silver, cream, and rose. Black pearls which are one of the most sought after colored pearls will display rose, silver, or peacock tones. It's not uncommon to see overtones of greens, blues and many other colors as well.
Creating pearl jewelry is not a simple task because all of the pearls need to match properly. While pearls of various sizes are often used in a single jewelry piece, they need to match in color and grade. Producing excellent pieces of jewelry requires the manufacturer to pay a lot of close attention to details.
Pearls are similar to diamonds and other gemstones in the fact that larger and higher grade pearls are more valuable. If you are purchasing pearls as an investment, you should purchase the highest quality jewelry items that you can afford. However, if you are buying pearls simply to wear and enjoy, choose more affordable pieces.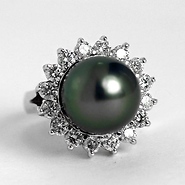 Every woman should own at least one piece of pearl jewelry, such as pearl earrings or pearl necklaces. The elegant, timeless beauty of pearl necklaces was a favorite for centuries. They were handed down from one generation to another and treasured by women of all ages.
While black pearls make a dramatic statement all on their own, they're especially beautiful when accented with diamonds. The fiery sparkle of diamonds surrounding a black pearl add to the radiance and allure of the piece. Black pearl and diamond rings are jewelry pieces that you'll wear over and over.
Discover why many cherish pearls and shop our collection of pearl jewelry here.