According to Fortune magazine, titanium is "The sexiest element in the whole periodic table." This exotic metal has a wide range of uses that includes everything from surgical implants to aerospace applications. And, in recent years it's became one of the most popular metals for making high quality jewelry.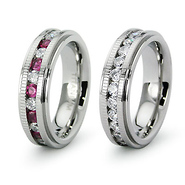 For over two centuries titanium is prized for its strength, durability, and amazing compatibility when used in the body. Because titanium is readily accepted by the body it can be found in many artificial body parts. Titanium jewelry is the perfect alternative for anyone that has a sensitivity to other metals.
Titanium even found a place in alternative medicine. Some people believe that wearing the metal provides numerous health benefits. Since ancient times, metals have been used to treat a variety of medical conditions. Titanium bracelets are commonly used to treat pain associated with arthritis, migraines, carpel tunnel, and other health problems.
Titanium usually has a cool, silvery gray color. However, titanium comes in a variety of colors. The metals reaction to oxygen forms a clear oxide that filters light waves which produces an array of brilliant colors. Electrochemical and heat processes are used to thicken the oxide and different thicknesses results in different colors.
Because the colors of titanium are optically created, you can see subtle changes in color in different lighting conditions. The metal may reflect one color in the morning hours and a different color at night. You can also see changes in color with different viewing angles. The colors aren't created by the oxide itself, they're created by the effect that oxide has on light.
When used in jewelry, titanium is 99% pure while the maximum purity for white gold is 75%. It's much stronger than other metals and generally very inexpensive. Titanium can withstand daily abuse and maintain its beauty and color for years. It is stronger than steel, yet lighter than gold.
Titanium is very hypoallergenic and can virtually be worn by anyone without the worry of rashes, irritation, or skin discoloration. It is also very resistant to corrosion and it will never tarnish or pit. All of these amazing characteristics make titanium the perfect metal for all types of jewelry.
Although titanium jewelry is an ideal gift for anyone, it's especially perfect for anyone that works in a field where jewelry is susceptible to abuse. This strong metal is very scratch resistant and will maintain its shape. So, if you've had trouble with gold rings getting bent, titanium is an excellent alternative.
Aside from the durability, strength, and economical price, the sheer beauty of titanium jewelry is what made it so popular. It's even became a popular choice for wedding bands. There are so many styles of titanium wedding bands available that anyone will be able to find the perfect design.
You can find many different styles of titanium rings online. Click here to shop for titanium jewelry now.