Father's Day is just over a week away, and you may still be wondering what to get for your dad that makes him feel special without breaking the bank. There are so many things that you can get your father – grilling sets, tool sets, hot sauce, or even gold chain jewelry. Think about what he likes or needs…if it's something that he needs, think about ways to make that gift even more fun. If there is little time to even think about giving something creative, check out our top three ideas that you can get your dad at GoldenMine.
1. Men's ID Bracelets
Gold chain bracelets can make any man's fashion attire look very chic yet masculine, and with the ID name plate, you can personalize it and add a special name or short message. Nicknames, "Dad," or even an inside joke engraved on the bracelet can make your dad appreciate the gift even more. While looking debonair, every time he sees the engraving, he'll be reminded of you.
Visit our gold ID bracelet collection by clicking here.
2. Fun Pendants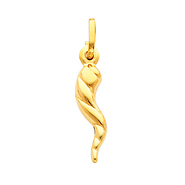 We see more and more men buying pendants, and they can be a fun way to express a man's interests or fashion tastes. One of the most popular types of men's pendants is an Italian horn gold pendant. Shaped like a ram's horn, these pendants symbolize good luck in a fashionable yet masculine way. Also, you can find other pendants that relate to what your dad may like, such as religious pendants, eagle pendants, and even a gun charm pendant. Whatever you may choose, remember to get a gold or silver chain to go with the pendant.
Visit our fun pendant collection by clicking here.
3. Contemporary Metal Bracelets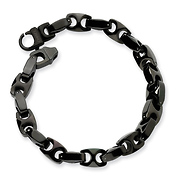 What's different about these bracelets than the one we mentioned above (ID bracelets) is that these bracelets have a cool, industrial look. Our contemporary metal bracelets are made with tungsten, titanium, and stainless steel, so they are more affordable than gold and silver bracelets but have a less ostentatious feel that some men desire. Especially for dads who don't like wearing a lot of jewelry, they will like the ruggedness that these bracelets have and masculine touch that they add to anyone's wardrobe.
Visit our contemporary metal chain bracelet collection by clicking here.
One thing to remember when choosing a gift for Father's day is that you want your dad to feel honored and special. Whether it is men's jewelry or something that you make yourself, think about your dad and have fun picking out a present for him.