When it comes to the winter jewelry trends for men and women in 2013, one thing is certain -- they will make any outfit look hot even in sub-freezing temperatures. Here are three of the latest jewelry trends, straight off of the runway.
Mix And Match Materials
The top designers are mixing and matching materials. For women, layer on your different metals to achieve this look. Silver, gold and bronze bangles in a variety of sizes and patterns can be stacked and worn with virtually any outfit. The same holds true for smaller necklaces. For a splash of color, choose one or two necklaces with small colored beads or one with a large colored pendent. Emerald green, Pantone's color of the year for 2013, or orange rose are popular color choices this year.
You will notice more and more men wearing two tone rings this winter as well. One of my favorite combinations is a black ceramic ring with a carbon fiber inlay. This look is rugged yet sophisticated, a must-have for any fashion-forward man.
What's Old Is New Again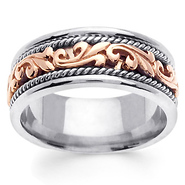 I also noticed that many of the biggest names in fashion are bringing back the vintage or antique look this winter. This doesn't mean that you have to spend a small fortune on authentic pieces. Instead, you can opt to purchase modern pieces that are designed to look old fashion. Details such as an antiqued gold finish and elegant scrollwork are what this trend is all about.
Shape It Up
Bold statement pieces with geometric patterns are still in vogue for men & women. One popular men's accessory seen on the runway is cuff links with a checkerboard pattern.
There were also a variety of women's necklaces that incorporated this trend. A long silver necklace with linked circles in a variety of sizes is a classic that I think belongs in any woman's winter wardrobe. Or if you prefer a more modern look, choose a shorter necklace with triangular-shaped pieces to accent your collar bone.