Pearls are the only gems in the world that are created inside a living organism - bivalve mollusks such as oysters to be exact. They naturally form as result of parasites or foreign substances invading the mollusks internally and using nacre to cover these irritants. (Find more information on how pearls are naturally created here in howstuffworks.com.) They are also the only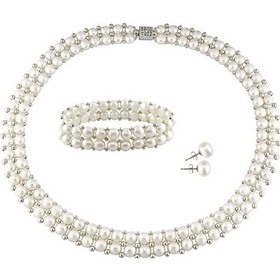 gem that doesn't have to be cut by a jeweler. From the minute that an oyster opens, a pearl shines with all it's natural beauty. It's no wonder that every culture shares a love for pearls since ancient times.
Pearl jewelry was discovered inside a sarcophagus that held a Persian princess that died in 520 B.C. making them the oldest known gems in the world. During ancient times, some legends said that the strike of a lightning bolt unto the ocean created pearls, and many ancients proclaimed that pearls held magical powers. The Roman mythological goddess of love, Venus (a.k.a. Aphrodite in Greek mythology), wore pearls. In the Dark Ages, people believed that pearls held a protective power against harm, so many knights wore them as they headed into battle.
Every gemstone has a particular symbolic meaning, and pearls are no different. Many cultures linked pearls to the moon. Pearls have been revered as a gift from the Gods and are virtually incorporated into the mythology of every culture. However, the symbolic meanings that pearls hold has differed slightly from one culture to another.


The Hindus associated pearls with the moon, and they were considered as symbols of purity and love. Ancient texts reveal that Krishna was the first to discover a pearl which he gave to his daughter on her wedding day.


In the Islamic culture, the pearl is held in the highest regard. The Koran, the Islamic sacred text, proclaims the pearl as a symbol of perfection and one of the greatest rewards that can be found in paradise.


In Christianity, the pearl was deemed to represent Jesus by St. Augustine. It's so highly revered that even the gates of heaven are adorned with pearls. They represent purity, truth, knowledge, enlightenment, the Immaculate Conception, and spiritual birth.


In Tibet, they also believed that pearls relate to spiritual birth, encouraging people to wear pearls to increase fertility.


The ancient Indians believed that pearls were the dawn of the Gods that had been turned into dew.


Chinese dynasties referred to pearls as the "jewel of the moon."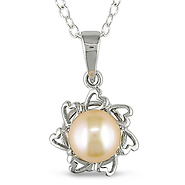 In ancient times, pearls were only worn by people of royalty for several reasons. Because they were considered so valuable spiritually, only people of a high class could wear them. They were so symbolic that the gift of a pearl would actually increase a person's status. Also, they were so expensive that it would take most people an entire lifetime to be able to buy pearls.
Some cultures valued the magical properties of pearls so much that they even used them in medicine. Pearls were ground into powders for salves, potions, and balms and used for everything from aphrodisiacs to ancient cures for insanity. Even today they're used as a high quality calcium supplement.
Today, pearls are just as popular as they were in ancient times. They possess a class and style that is more versatile today than ever before. From a classic pearl bangle bracelet to a pearl pendant adorned with diamonds, pearls are a gift that are sure to please any woman. And the magical powers that pearls hold just might bring that special lady some good luck and prosperity!