One wedding jewelry trend becoming more popular over the past year is buying an engagement ring and a wedding band together in a set. Engagement ring sets (also known as wedding ring sets) are by no means new to the jewelry market. Jewelers had them for decades but only recently are becoming popular. Originally meant to be an affordable choice, they generally have very simplistic designs so that they would fit comfortably side by side. Today, designs are much more elaborate and beautiful.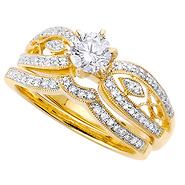 Enhancer Sets
Although you can still find many classic designs, engagement ring sets are now available in a variety of styles. If you prefer a sleek style, enhancer sets are a great choice. These wedding bands are usually very simple and just rest against the engagement ring or just under the stone. This style is often seen with solitaire engagement rings. Also, both rings can be worn alone, so if you prefer to have the option of wearing them as a set or by themselves, enhancer sets make a great choice for you.
Counter Style
If you plan on wearing your engagement ring everyday, consider the contour engagement ring sets. These sets tend to be more elaborate and are uniquely designed so that the wedding band matches the counters of the engagement ring and appear as one ring. While they are certainly gorgeous together, wearing the band alone may appear less attractive, depending on your style.
Scaffold Sets
Similar to the counter style sets, scaffold style engagements ring sets are another type of set for those who plan on wearing both rings everyday. This style features a double banded wedding ring and the engagement ring nestles between the two bands. The puzzle-like design create the look of one large, cocktail style ring when worn together, and most people won't even know it's two rings put together.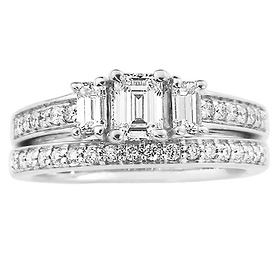 Aside from the beauty that wedding ring sets provide, they also have several other advantages. First of all, it reduces or even eliminates the time it takes to find a wedding band that will match the engagement ring. Both rings will be identical in color, have similar designs, and sit nicely together. Second, because you are purchasing both rings at the same time, it often costs much less than buying them separately, so they carry a lot of value. Third, retailers may also offer a wedding band for the groom that matches the engagement ring set, and some sets even include the groom's ring. Finding the perfect engagement ring and wedding band can be a time consuming process, especially if you want them to match. By purchasing a wedding ring set, you can reduce your search time and devote more time to your wedding plans. Depending on your style and interests, enhancer, counter, and scaffold sets will give you the best value in a shorter amount of time.
Visit GoldenMine.com to find our beautiful wedding ring set collection!