If you're trying to find the perfect gift, consider giving topaz jewelry, the birthstone for November (yellow topaz) and December (blue topaz). Whether you need a gift for a special occasion or just want to show someone how much they mean to you, topaz is an excellent choice. Topaz comes in a variety of rich colors and matches well with yellow and white gold jewelry. This stunning colored gemstone also comes with many meanings dating back to ancient times that you or may not believe. Topaz encompasses more than just beauty but "magic" as well.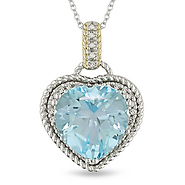 Topaz's mysterious attributes dates back to B.C. The Egyptians believed that the mighty Sun God Ra gave topaz its golden glow. They associated this gemstone with the Roman God of the Sun, Jupiter. The Greeks trusted the supernatural power of topaz to increase their strength and make someone wearing the gem invisible in times of danger. Topaz was even associated with the planet, Venus.
Topaz has also been claimed to enhance a person's spiritual potential, creativity, and intelligence and to impart wealth and wisdom. Historically, it was believed to bring long life and make someone more beautiful or handsome. It's even been used as a protection from sorcery.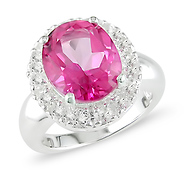 Other mystical attributes of topaz includes dispelling sadness, anger, and fear. Sterile women often used topaz to become fertile, and it was used to increase the appetite and cure blood disorders. Often referred to as the rejuvenation gemstone, topaz has a long history of uses around the world. Legend has it that if you drop a topaz stone into a pot of boiling water you can stick your hand into the water without getting burned. In another legend, Lady Hildegarde presented a topaz to a monastery in her town. It was claimed that the gem emitted a brilliant light at night allowing prayers to be read without the use of a light.
All of these interesting facts and anecdotes made topaz a favorite gemstone since ancient times. Yet, even those that know nothing of its mystical powers, healing attributes, and powers of protection still love this beautiful gem. For centuries many jewelry designers and jewelry-lovers prized topaz, creating exquisite gold bracelets, earrings, and rings with topaz. One of the main reasons topaz is so popular is because of its neutral colors that compliment virtually every skin tone. It's also popular because it comes in such a wide variety of colors such as blue, red, orange, yellow, pink, and purple. Topaz is also a relatively hard gemstone, mohs hardness 8, making it wearable to wear from time to time. This gemstone can be found in many different designs both trendy and traditional and makes a wonderful addition to anyone's jewelry collection.
Want to find beautiful topaz jewelry? Check out our topaz jewelry selections here.