Father's Day is celebrated around the world on a variety of different dates. Typically, the day includes a special dinner, time with family, and of course, Father's Day gifts, such as gold chains. It's a special day that gives children all over the world the chance to let their father's know just how much they mean to them. But, how did this holiday get its start?
History: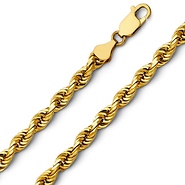 It is believed that June 19, 1910 marked the first Father's Day. The year before, Senora Smart Dodd sat at the Central Methodist Episcopal Church in Spokane, WA and listened to a Mother's Day sermon. This sermon sparked the idea in Dodd for a celebration that would honor fathers that were as devoted as her own father.
Senora's father, William Smart, was a Civil War veteran. His wife died during the birth of their sixth child, and he was left to raise the children on his own. After Senora became an adult, she understood and appreciated how much strength and courage her father had and how selfless he was in providing and caring for his children.
She enlisted some help from the Spokane Ministerial Association and made arrangements for a tribute to her father. On June 19, 1910, some young local YMCA members arrived at the church wearing roses. A red rose was worn to honor a father who was alive and a white rose was worn to honor a deceased father.
Senora traveled through Spokane in a covered carriage and delivered gifts to shut-in fathers. Even with support from the YMCA, YWCA, and churches, it took many years before the day actually became an official holiday. While many people accepted and celebrated Mother's Day, they ridiculed and even made jokes about Father's Day. However, in 1913, a bill was introduced.
A few years later, President Wilson wanted to make Father's Day an official holiday, so he traveled to Spokane to make a speech at its Father's Day celebration in 1916. Yet, Congress believed this day would become commercialized. Over the years, two more bills introduced to Congress would meet defeat.
In 1957, Senator Margaret Chase Smith of Maine wrote a proposal to Congress accusing them of ignoring fathers for almost four decades. Although President Lyndon Johnson proclaimed the third Sunday of June as Father's Day in 1966, it wasn't until 1972 that President Richard Nixon made it an official holiday.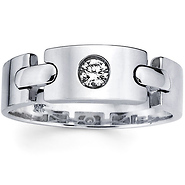 Now, many people around the world celebrate their dads, thanks to Senora and Presidents Woodworth and Johnson. How people honor them can differ, but, generally, they revere fathers with a gift.Gift Ideas:
It can be hard to choose the perfect Father's Day gift, so choose gifts based on your father's personality and preferences. If your father likes to work with his hand, tools could be a great gift. If your father loves sports, choose items based on his favorite game.
Jewelry is always a perfect gift, and it's something that a lot of men most often don't buy for themselves. It makes a ideal gift because jewelry will last for years and remind him of how much you love him every time he wears it. A gold chain necklace is a classy look that will go with everything he wears. And, if you want something really special, why not choose a mens diamond ring.
Father's Day is approaching, celebrate your dad with a special gift that he'll love. Check out our Father's Day gifts here.