Last Saturday, we announced our big sale on silver CZ rings! Customers can get 15% off these rings until tomorrow night with our promotional code. So far, we had a huge response!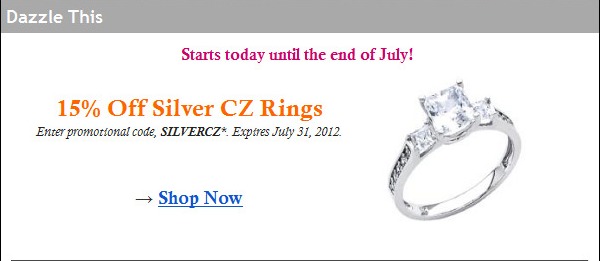 Why wear fake diamond rings? Diamonds are the hardest gemstone, rare, and highly coveted, especially for its immense sparkle. However, these qualities command a steep price. Cubic zirconia, a.k.a. synthetic diamonds, are man-made gemstones that mimic diamonds and, thus, much cheaper than natural diamonds. If well-made, CZs can sparkle brightly similar to diamond gemstones and appear as if they are real diamonds. Cubic zirconia rings give people the option to wear fine-looking jewelry that sparkle at prices that they can afford. They can make a fashion statement without the high price of diamonds. Or they can be given as romantic gestures as promise rings or even engagement rings. Whatever the reason may be, customers can own beautifully-designed jewelry rings from traditional styles to fancy, vintage varieties that make anyone who wears them feel desirable. When worn as CZ engagement rings, customers with small budgets who prefer diamond rings have the option to upgrade to their desired gemstones when they are more financially stable. They can swap out the synthetic diamonds for natural ones.
Overall, cubic zirconia rings give more flexibility in price to wear stunning jewelry with the option to upgrade to more expensive natural gemstones in the future. They also allow jewelry designers to create artistically-designed rings without the hassle of the expense. Diamonds are beautiful and very much desired. However, CZ rings give more options.
Check out GoldenMine's CZ Ring Collection here see why these rings are so popular!