We've gotten a couple of questions on where our gold chain necklaces and bracelets come from, so we'd like to take this opportunity to answer those questions. Most of our gold necklaces are made in the USA from imported gold, and the other place is Italy. In the past, gold chains were notably from Italy. Italian-made necklaces were a sign of prestige and quality because the designers created jewelry with the utmost craftsmanship. Some Italian designers went to the US and brought their expertise to the states.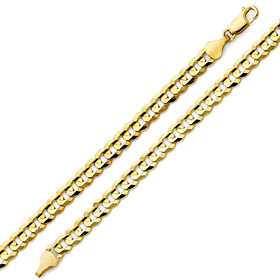 Due to regulations, duties and taxes are applied to gold jewelry made in Italy, making them more expensive. Our US suppliers use similar machines, techniques, and designs, so their gold chain jewelry are comparable to Italy's yet cheaper. The quality of USA-crafted gold links is similar to Italy's quality.
Without the associated fees in shipping or the tariffs and taxes involved in imported jewelry, you get the best price without sacrificing style. These gold necklaces and bracelets are constructed and manufactured in the US using imported gold with ultimate care and the highest of standards, ensuring durable jewelry that will serve you for years. Customer support is easy to deal with because the necklace manufacturer is located here in the US as opposed to overseas. When you want the ultimate alternative to Italian gold links without the expensive price tag and excessive tariffs, choose our gold chains.
If you have any questions about our gold chains, give our customer service department a call during business hours or email. As a family-owned company based in Los Angeles, we are happy to offer our customers gold chain jewelry crafted in the United States.
Browse our gold chain necklaces from the US here.