With the price of gold so high, many of our customers keep asking to us to offer more and more silver jewelry because its more price-friendly and the variety of designs are great.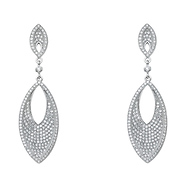 So we've answered their request. Within the coming weeks and months, we will focus on adding many different styles of silver jewelry such as earrings, necklaces, pendants, and bracelets. We are working tirelessly with our partners to bring out high quality silver products that are not only fashionable for everyday wear but most importantly affordable with many different price points.
The silver earrings we currently offer in our site is just a small sample of what our customers have chosen. They wanted pieces that were not only fun and sexy but also pieces that can be worn with any attire, whether it be for a formal event, such as weddings, or just a night out with friends or a significant other, these sterling silver earrings and future items that we're working on to add to our collection will surely bring out some style, fun, and flare that people will notice and admire.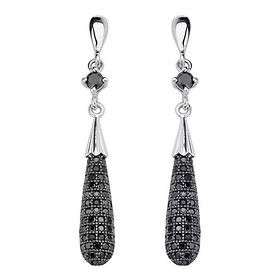 As you can see, we recently added dangling silver earrings with cubic zirconia (CZ). These earrings will certainly be stunningly eye-catching at night, especially at social events, night clubs, and prom, glistening brightly as they catch the candle light at dinner or the flashing colorful lights at a night club. Certainly, when walking or dancing around, feeling these silver dangling earrings gently swinging back and forth creating a stunning sparkle can put a smile on anyone's face.
We know how important it is to look your best, and we're confident that we can provide you with a product that you'll absolutely love to wear with your current or new attire. There's always a piece of jewelry that will complement excellently with your wardrobe. That has always been our goal personally to not only answer and provide what the customer wants, but also provide exceptional service at the same time. As we move forward we will listen to what our customers want and to provide them with exceptional pieces that they'll love to wear without breaking the bank to do so. We strive to provide exceptional quality pieces of jewelry that everyone can afford to have to either keep for themselves, or as gifts to others you love.