Even if a woman doesn't have any other pieces of jewelry on, she will almost always be wearing a pair of earrings. Whether it be diamond studs, gold earrings, or silver hoop earrings, earrings not only compliment your wardrobe, they also compliment your face. They became so popular that a lot of mothers even pierce their daughters ears when they are just an infant.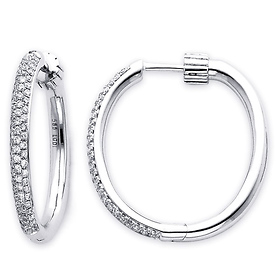 And, more men are wearing earrings than ever before.
While almost every modern day woman has numerous pairs of earrings in her jewelry collection, they are an ancient accessory. Archaeologists found hoop and pendant earrings that dated back thousands of years. Over the years the popularity of earrings has came and went, but for several decades they've been a must-have accessory for most women.
At one time, earrings were considered to be either casual or dressy. Casual earrings could be worn on a daily basis. Earrings that were more elegant were reserved for dressier occasions. Today, there are no set rules as to which type of earrings can be worn for a certain occasion. It's just as fashionable and acceptable to wear a pair of diamond earrings with jeans as it is to wear them with an evening gown.
In the early 20th century, screw back and clip earrings all but did away with the need to have pierced ears. Clip earrings were much more comfortable than the screw back type and they kept the earrings more securely in place. There are many women today that still choose to use clip earrings.
No matter what type of fashion style a woman likes, she probably owns at least one pair of hoop earrings. Hoop earrings are perfect for literally any occasion. They look just as good with a worn out pair of jeans as they do for a night out on the town. Hoop earrings became very popular during the 1960's and 1970's and are still just as popular today.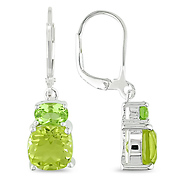 Gold hoop earrings come in sizes that range from small enough for an infant to large enough to wear for a bracelet. For this reason, literally anyone can wear them. Although a hoop generally refers to a circle, hoop earrings can be any shape such as round, oval, square and triangular. They also come in various widths and can be adorned with diamonds or jewels, or etched.
Stud earrings are also another design that almost every woman owns. With the trend of having several piercings on each ear, they're perfect to pair with other types of earrings. They make a classic statement when worn alone, compliment diamond or gemstone earrings and look great when worn with hoops.
There are few women that don't love the look and feel of dangle earrings. Dangle earrings make you feel sexy and feminine. Once reserved for dressy occasions, dangle earrings can be worn anytime. Another style that has became really popular are animal shape earrings. From butterflies, to cats, frogs and bears, these designs add a little fun to your jewelry collection. And, they're just as great for children as they are for adults.