At the beginning of this month, we traveled to Las Vegas to attend the largest jewelry trade show, JCK, in the world. We checked out the latest fine jewelry products and discovered the hottest jewelry trend. Find out more about this trend in our press release below:
The New Popular Metal for Wedding Rings and Fine Jewelry
GoldenMine.com, a high end online jewelry retailer, reports on one of the newest jewelry trends of the year.
(PRWEB) June 16, 2010 -- From June 4 to June 7, 2010, the biggest world-wide jewelry extravaganza, JCK, united tens of thousands of jewelry makers, retailers, and others from the jewelry industry in Las Vegas, NV, and GoldenMine was definitely a part of the action. For those unfamiliar with this trade show, JCK is like Fashion Week for the jewelry industry, providing a platform for jewelry makers and designers to connect with customers through jewelry retailers like GoldenMine, a large gold chains and wedding rings jeweler. This four-day event is the largest out of all JCK's trade shows and held every June in Las Vegas, making it the top event for people to swap ideas, network, and find out about new products and the latest jewelry trends.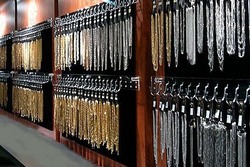 "We're excited to find out what the newest products are out there and, most importantly, form new relationships to offer our customers more products they will love," said David Lee, co-founder and Chief Operations Officer of GoldenMine, "These relationships are part of our foundation." GoldenMine got the opportunity to interact with current vendors as well as meet new ones from around the world. This year, JCK organized jewelry companies by country, such as Italy, Spain, and Korea, showing each culture's unique styles.
One of the more exciting things to come out of JCK is, of course, finding out the new and latest trends.
"The buzz going around JCK is that silver jewelry is making a comeback for upscale customers, especially silver jewelry with diamonds," said Lee. Silver jewelry can always be found in the trade show circuit but more as costume jewelry. Chic silver jewelry was much less popular in the past because the cost of gold was lower back then. Furthermore, silver tarnishes easily, which can be simply removed with proper care, and requires more maintenance than gold and platinum. With the downturn in the economy and rising costs of gold and platinum, more and more people are searching for other precious metal jewelry and now turning to silver. What differs this time around are the pairing of silver and diamonds and jewelry craftsmanship. Many of the silver pendants, earrings, necklaces, and fashion rings displayed at JCK contained small diamonds with a high degree of workmanship, emulating the quality of fine jewelry in terms of the design, detail work, and handling of the metal. Also, some fashion rings and wedding bands at JCK were made with silver and gold metals with the gold portion mounting the diamonds. These rings provide a more affordable option for budget-conscious engaged couples wanting quality diamond wedding bands. Overall, GoldenMine found that fine silver jewelry to be the main current trend coming from JCK.
GoldenMine left the biggest JCK event full of ideas and relationships. This company looks to expand its silver and wedding ring jewelry collections to include high quality silver jewelry with diamonds. Yet, even with the rise of silver jewelry, GoldenMine will still remain primarily a trusted source for quality gold jewelry. Look for these new items and other exquisite jewelry products in the near future at www.goldenmine.com.
About the Company
Established since 2001, GoldenMine, Inc. is an online retailer offering a large selection of quality jewelry from around the world at competitive prices. With over 20 years of experience, the company strives to bring unbeatable value, high standard service, convenience, and selection. GoldenMine's mission is to provide the best customer experience through three golden values: Quality, Service, and Trust. Based in Los Angeles, CA, GoldenMine can be found online at www.goldenmine.com. Phone: 1-800-619-1375, Monday - Friday from 9:00am to 5:00pm PT.
This press release was distributed by PRWeb.