As Mother's Day nears just around the corner, you might wonder how you can show your appreciation to her this year. Why not gift her a long-lasting and lovely piece of jewelry? Treat your mother to a beautiful gift that she'll love to wear. A thoughtful gift of jewelry symbolizes how deeply you care for her. If you're still looking for a gift to get your mother on this upcoming Mother's Day last minute, we put together a list of 5 great jewelry choices for the most important woman in your life.
1) Madre Pendant with Flowers in 14K Tricolor Gold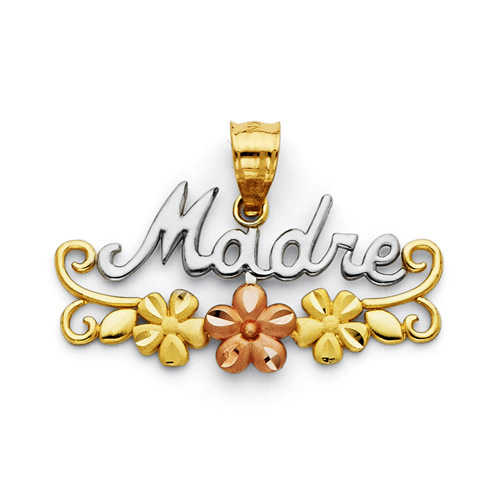 Your mother will adore this charming tricolor gold pendant. This pendant depicts the word "Madre," meaning "Mother" in Spanish, in white gold script. Below, the pendant features three yellow and rose gold flowers. This adorable pendant is a considerate gift for Spanish-speaking mothers. Pair it with a 2mm yellow gold chain for a gift that your mother will always cherish. Click here to see our gold chain necklace collection.
2) White Gold Whimsical Heart Link Necklace Bracelet Set in 14K Two-Tone Gold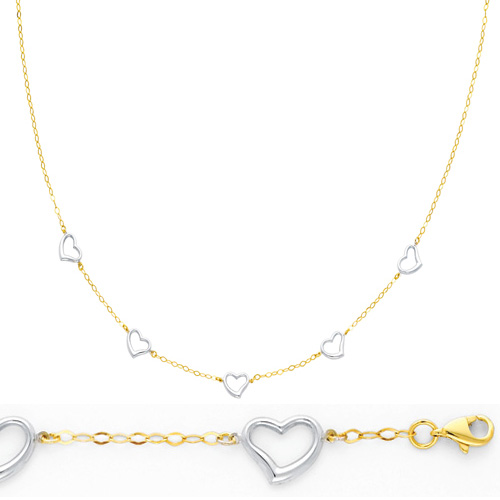 If you're unsure about whether or not to give your mother a necklace or bracelet, how about gifting her both? This attractive set features a two-tone gold necklace and matching bracelet. This set features an adorable, curved heart design in white gold that contrasts with the yellow gold links. This matching set will make your mother smile whenever she wears it.
3) Mother Child Double Heart CZ Pendant in 14K White Gold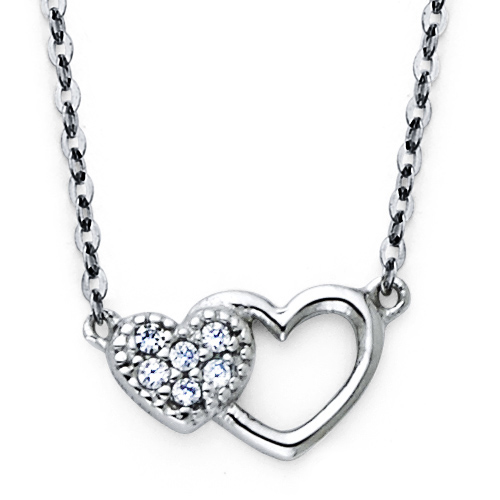 This gorgeous white gold pendant symbolizes the strong bond between a mother and her child, as conveyed by the design of two overlapping hearts. The leftmost, "child" heart is adorned with CZs that sparkle beautifully in the lights. Your mother will always have a striking reminder of your love for her as she wears this necklace.
4) Whimsical #1 Grandma Pendant in 14K Yellow Gold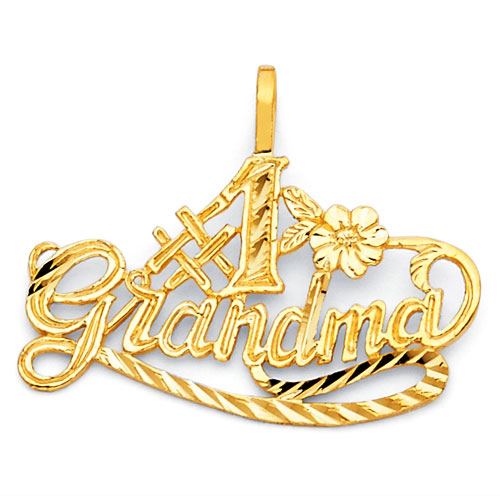 Of course, Mother's Day is also a day of appreciation towards the mother figures that provided us with kindness and care throughout our lives. Gift your grandmother this darling yellow gold pendant to let her know that she's the #1 grandma in your life. She'll love the dazzling shine of the diamond-cut pendant that can be paired with a 2mm or thinner necklace.
5) Twisting Rope Knot Pearl Drop Earrings for Women in 14K Yellow Gold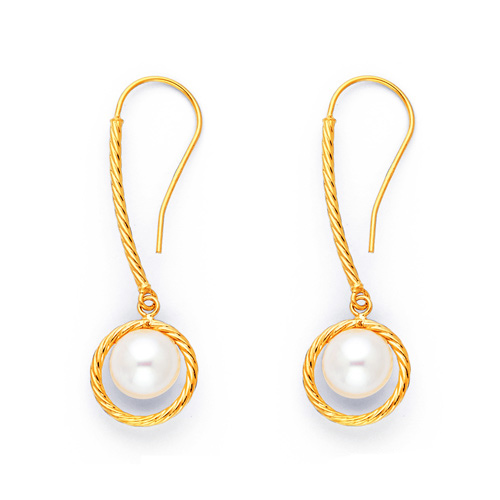 This graceful set of hanging yellow gold earrings is a great fit for the woman who appreciates a classic style. Pearls are always a wonderful choice, and these earrings feature round white cultured pearls that your mom will love to show off. Give her this elegant and eye-catching gift this Mother's Day, and she's sure to be delighted.
Let your mother know of your appreciation for her with one of these pieces or any other product from our marvelous selection of fine jewelry. As you browse our large selection of rings, necklaces, bracelets, and earrings, you'll be sure to find the perfect gift for the very special woman that's always been there for you in life.
Browse our full selection of Mother's Day gift ideas here.