Experts agree that the main cause of allergic reactions to jewelry is nickel. While nickel is often used in metal jewelry components, especially in stainless steel jewelry, it is also found in gold jewelry and silver jewelry. Both gold and silver generally contain a certain amount of nickel and other metals such as copper and zinc that is used to help them harden.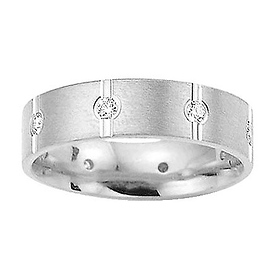 Copper and zinc normally do not cause any type of allergic reaction when it comes in contact with skin. Nickel is a different story. Skin does have an adverse reaction to nickel. While someone will say they are allergic to jewelry, it is not actually the jewelry itself - it is the nickel content of the jewelry pieces.
This type of allergy has several medical names, such as contact dermatitis, nickel dermatitis, and nickel allergy. Nickel dermatitis can develop at any time during a person's life. Different people react differently to various amounts of nickel. One person can have a bad reaction to a jewelry piece that contains very little nickel, while another person only develops a rash with a piece that has a high content of nickel.
When nickel comes in contact with skin, it is absorbed into the bloodstream. The bodies fight to destroy this foreign body, which results in a rash. Because each individual person has a different resistance level, it can literally take years for an allergy to jewelry to develop. So even if you have worn jewelry all your life with no problems, you can still become allergic.
Any type of moisture, even perspiration will make the reaction worse. The moisture reacts with the nickel dissolving it and releasing it onto the skin forming salts that create the allergy. Keeping areas of the skin that come into contact with jewelry dry is enough for some people to avoid an allergic reaction. You can even use a light coating of talcum powder to keep the areas around jewelry dry.
What to Do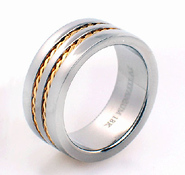 One of the best ways to be able to wear jewelry despite an allergy to jewelry is to choose pieces that are nickel free. Instead of choosing gold-plated jewelry, such as mens gold chains, opt for gold filled pieces. Although both types are simply base metals covered with layers of gold, gold filled pieces have twice as much gold covering as gold-plated pieces do.
If you would really prefer not to take any chances of developing a bad rash, choose sterling silver jewelry. Sterling silver is marked 925, which means that it is 92.5 percent pure silver and the remaining content of the metal is copper. Copper is another excellent choice for anyone allergic to nickel. Copper is pure and never mixed with other metals.
Platinum, palladium, and titanium are some other excellent choices for jewelry. Platinum wedding bands and other jewelry has a content of 95% platinum and 5% of another metal, generally iridium. Titanium and is by nature hypoallergenic, and experts often recommend titanium jewelry for anyone that cannot normally wear other metals.
While some people that are allergic to jewelry might not have any problems wearing stainless steel, others will. If you really love jewelry and don't want to stop wearing it, experiment with these different metals to see which ones you can wear comfortably. With these simple suggestions, you can still wear jewelry despite the allergies.