It's that time of the year again! Leaves are changing, and temperatures are dropping. Now that autumn is in full swing, many people are making adjustments to their wardrobe. While it's important to make sure your clothes are warm and cozy, it's also time to put your summer jewelry away, and start bringing out accessories that fit into the mood of fall!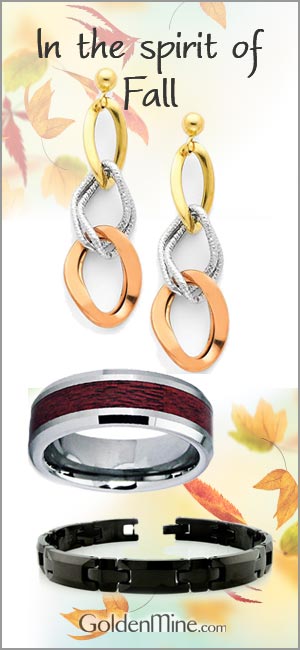 When most people think of autumn, certain things come to mind -- Halloween, the forest, and changing leaves. Why not wear jewelry that have these seasonal elements, such as black, wooden, and tri-color gold jewelry? These bold choices reflect the beauty of autumn.
Black
As days become darker and Halloween, usually depicted in black and orange, lingering in the air, the color black greatly depicts this season. Black has a mystical and powerful way of drawing people in, and black jewelry makes a bold, chic fashion statement. Jewelry accessories made with black metal naturally or manufactured, such as ceramic, tungsten, titanium, steel, and even gold, stand out the most in an attractive way. You can also wear dazzling black gemstones, such as black diamonds and onyx, that complement autumn.
Tri-Color Gold
Besides black, many people associate fall with a myriad of rich, warm colors as the leaves change from green to golden yellows, reds, and browns. The combination of yellow, rose, and white gold in tri-color gold rings, necklaces, bracelets, and other jewelry beautifully reflects the ever-changing rich, warm colors of fall in an elegant and mesmerizing way.
Browse Tri-Color Gold Jewelry >>
Wood
Earthy elements become associated with autumn as the leaves fall, making wood more apparent. Jewelry with wood or wooden-like elements is a modern, fashionable trend that harmonizes with the spirit of this season. A beautiful, simple ring with a wooden inlay design or bracelet made of polished wood can be a subtle but charming look this season. Not only is wooden jewelry chic, it is reminiscent of autumn - the fallen leaves and beautiful forests. Try a subtle piece of wooden jewelry this fall.
This season marks a beautiful and colorful time of the year. You can get into the spirit of autumn with jewelry that corresponds to its elements. Now is the time to accessorize yourself with captivating black, tri-color gold, and wood rings, necklaces, and other jewelry.