Welcome our new and impressive vintage style jewelry collection, DecoSkye. It features jewelry from and inspired by the 1920s and 1960s. The collection features a lot of darker colors, but lighter colors, such as silver and light blues, are present too. The jewelry is great for any kind of present for any woman. The pieces are also very versatile, and though they are mostly vintage-like, most pieces can also be worn as part of a stylish modern outfit. These pieces look vintage and amazing and are surely going to boom in the summer and fall.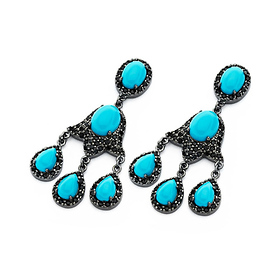 Our new collection really showcases some of the most current popular TV shows and movies take place in older time periods. Also, it reflects how the fashion from those shows influences our current fashion trends from those eras to now. Some of these shows and movies are The Great Gatsby, Mad Men, Downtown Abbey, and Boardwalk Empire. A lot of the jewelry featured in those movies and shows reflect the items in this collection. Hence, not only has a lot of inspiration come from these productions, but the jewelry is showcasing the productions themselves.
And not only is this jewelry stylish and elegant, but it's also has incredible prices - some quality jewelry more affordable than going to a physical jewelry store in a mall. It features a variety of metals - sterling silver, gold plate, brass, and stainless steel - to fit a variety of budgets. The most expensive item in the collection is a pair DecoSkye Black CZ & Turquoise Silver Chandelier Earrings. Made with genuine turquoise and sterling silver, they cost only $139.95 on the website. This collection also has a gorgeous set of stainless steel earrings with a floral flourish design for $9.95. As you can see, no matter what your budget looks like, if there's a special event coming up, chances are you could still get someone in your life some new stylish jewelry they're sure to love.
These pieces would work great as a graduation present (it's the season when people are graduating), something to wear as a bride or bridesmaid, whenever you are going to an important event, or just as everyday jewelry pieces. Obviously, some of the pieces are fancier than others, but most of them are quite versatile and can be used for just about any occasion.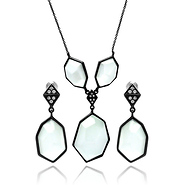 Summer and fall are fast approaching, and that means that it's time to take out clothes that have been in your closet all year. Why not get some new jewelry for yourself or for someone you know? So, this new vintage-inspired jewelry could really be a great addition to your silver jewelry collection. They are a bit edgy but are quite elegant too. This collection is great for any woman and has an accessory they will fall in love with.
If you know or are someone who is intrigued and would like to purchase something from this fabulous collection, then go for it! And if you really love it, support it and in the next few months, we plan on releasing more pieces to the collection! These pieces can be worn on almost any occasion and with many different outfits. So, if you like this collection for yourself or someone else, purchase something you or they will love forever!
Click here to visit our newest collection, DecoSkye!