The December holiday season is here, and people are hitting their computers or the streets in search for the perfect gifts. Now where do you start? Consider a fine piece of gold jewelry and white gold chains or a fun fashion jewelry gift, such as chain necklaces and bracelets, earrings, and gemstone jewelry. Although people choose gifts from a variety of items, jewelry tends to be a popular choice and cherished present. Choosing the perfect holiday jewelry gifts is easier if you personally know the person. You have a good idea of the types and styles of jewelry they like and you can purchase items that will compliment their existing jewelry collection. If you are uncertain of their style, here are some classic jewelry items that anyone can appreciate: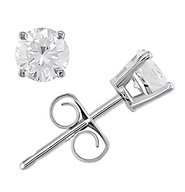 Gold and Silver Chains
Chain necklaces and bracelets make a wonderful choice for both men and women. They can add a touch of luxury to casual wear, or detailed or big chains add a lot more extravagance to any fine evening wear. Because chains come in an assortment of styles and sizes, gift givers can find ones to give to their family and friends.
Hoop and Diamond Stud Earrings:
Hoop and diamond stud earrings continues to remain popular over many years for women and increasing popular for men. The classic round or oval shapes of hoop and diamond stud earrings compliment many types of faces and create a fashionable touch. Even though they are classic, hoop and stud earrings come in a variety of standard, trendy, and unique designs.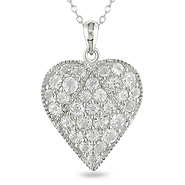 White Gemstone Jewelry
Gemstones can make any jewelry even more elegant because of their sparkle and added detail, and white gemstones harmonize well with all types of fashion styles and colors. The most popular choice for white gemstone jewelry is diamond jewelry. Yet, popular colored gemstones, such as topaz, amethyst, and sapphire, also come in white and are more affordable than diamonds. White gemstones have more of a fiery sparkle than colored gemstones and match most styles, so they also make lovely gifts that will last for years to come.
Overall, if you are stuck on a special gift to give someone this year, consider jewelry! If you are unsure of what type of jewelry to get, start with browsing through the gold and silver chains, hoop and diamond stud earrings, and white gemstone jewelry sections. You will be sure to find an amazing gift, or at least get an idea of what to get, from the heart!
Check out our Holiday Gift Guide here to finish your Hanukkah, Christmas, Kwanzaa, Solstice, or other December holiday shopping!