Graduations are huge accomplishments to achieve after spending years of studying, acing excruciating midterms and tests, and for some, becoming experts in tough industries. These hallmarks deserve to be rewarded with enduring and special gifts. Jewelry is the one of the best gifts to give to high school or college graduates. Such events make an opportune time for you to give them stunning jewelry that will prepare them for finding or starting a professional job, especially for graduates entering the workforce. With proper care, they can definitely last a lifetime. There are various kinds and types of jewelry with varied stone options which would cater to the particular preference and taste of the graduate. Besides being a great option to help graduates enter the professional world, jewelry gifts can also be memorable keepsakes that remind graduates of their wonderful college or high school years. Indeed, jewelry makes special gifts that bear value and/or significant meaning for graduates.
For College Graduates:
Before buying jewelry for the graduation event of your friend or relative, you may want to determine what type of jewelry to buy and the personality and age of the receiver of the gift. For college graduates (undergrad or grad), consider simple and timeless accessories, such as the following:

Necklaces
Necklaces are considered to be the most visible accessory as it is can easily be seen from a frontal vantage point. Whether it be a simple gold chain for men or a link necklace for women, think of simplicity and elegance that is not too big and flashy since they will be attending interviews or just starting their careers. For young women, you can even embellish a necklace by adding a specialized pendant that will be most suited for them once they venture in their own career right after they graduate. These pieces can help complete any business attire for both men and women.
Bracelets
Bracelets are very common graduation gifts for both men and women alike that can be fashionable, professional, or both. They make fantastic accessories for those who like to wear minimal jewelry or are uncomfortable wearing necklaces. Gold or silver link bracelets make an excellent choice to wear at job interviews or the corporate world for both women and men. Tennis or bangle bracelets also make safe choices for female graduates. Aside from its beauty and wear-ability, they can provide a significant sign of sentiment, especially for engraved ID or charm bracelets, which the bearer will likely treasure for a lifetime. They vary in style, thickness and type. If you want to give a male a bracelet, consider more masculine, wider chain bracelets, such as Figaro, mariner, and Cuban link styles, so they may feel more comfortable wearing it. When choosing bracelet jewelry gifts, think about the style and purpose.
Earrings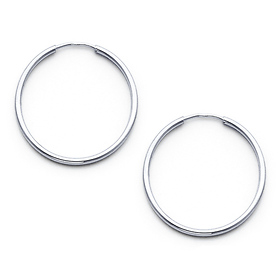 Also, small-to-medium size earrings make an excellent impression in the corporate world for women, depending on the industry. Silver or gold hoop earrings - whether it be round or flat – are always popular. If you prefer to give larger hoop earrings, they make great, fashionable gifts instead. The facial structure can also help you determine the size. If the graduate has as a small face, stay away from buying very large hoops, and ff they have an oval face, any type of hoop earrings will just look good on them. Overall, for gifts to help with their business attire, opt for small-to-medium sized earrings, and for fashionable gifts, opt for larger sized earrings.
For High School Graduates: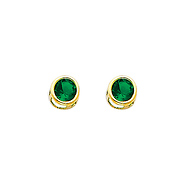 For that perfect high school graduation gift, you may want to choose a livelier and fun type of jewelry that has a lot of sentiment or symbolizes their interests. We offer owl pendants or earrings, other pendants reflecting the graduates' mascots or pursuits such as soccer or ballet. Also, our cubic zirconia birthstone earrings make sentimental gifts -- either choose the graduate's birthstone color OR school color. These accessories can help them transition into college since they help express their personalities and maintain a sense of self in a new environment.
Without a doubt, graduation is a time to celebrate new beginnings and years of hard work. What a fantastic way to reward graduates is by giving them jewelry that helps them in the next phase of their lives in the professional world or college. Jewelry, indeed, makes a perfect graduation gift for all ages.
Visit our Gift Ideas for High School and College Graduates here.