GoldenMine.com, a fine gold jewelry and wedding ring company, expands online diamond engagement ring collection to include more unique stone cuts and styles uncommonly found in most jewelry e-commerce websites.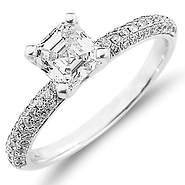 Browsing through the internet for engagement rings, people will mostly find rings with traditional round and princess cut diamonds. They are the most popular types of diamonds because of their classic, timeless qualities. GoldenMine's engagement ring collection features these best-selling diamonds. Recently, GoldenMine decided to expand its engagement ring stock by offering more diamond cuts and designs, ultimately providing more choices and variety for its customers.
While GoldenMine still focuses on selling round and princess cut rings, it now offers engagement rings with asscher, emerald, and radiant cut diamonds.
Asscher Cut (modern) - Resembles a square with slightly trimmed corners similar to an emerald cut, a flat bed, and 74 facets. Has a series of steps cut into the sides, creating a mesmerizing mirrored effect. Vintage asscher diamonds have deeper truncated corners creating more of an octagon shape and less facets.
Emerald Cut - Another trimmed square- or rectangular-like diamond with steps cut into the side but less than the asscher cut. Typical cut for emerald gemstones, hence its name.
Radiant Cut - Mix between an emerald and brilliant cut diamonds, has step cuts with triangular facets to increase amount of light flowing through diamond.
"These diamonds are popular but are still different than what a lot of other women wear. I see them being really popular with the next generation of couples," said David Lee, GoldenMine's Chief Operations Officer and co-founder. "Each generation wants to have something more unique than the previous generation, so I see these cuts increasing in popularity in the next few years."
Besides offering more diamond cut selections, GoldenMine added more diamond engagement rings and styles that are different to what most people find over the internet. Customers will find sleek and modern engagement rings to antique, pave rings with a contemporary twist. GoldenMine also added more engagement ring sets (a.k.a. wedding ring sets and bridal sets), which includes an engagement ring and matching wedding band, to offer more value for customers looking to save money and time when buying wedding jewelry. This jewelry currently has more designs, styles, and sets to choose from for its customers.
Understanding that the current economy and high platinum and gold prices affected people's budgets, GoldenMine will also include alternative semi-precious metals to its wedding and fashion jewelry collections. Furthermore, GoldenMine plans on increasing its titanium and tungsten wedding band selections due to their current rising sales. This company will offer semi-precious metal rings with gemstones in the near future as well. Providing these semi-precious jewelry options gives these customers the opportunity to have quality jewelry at more affordable prices.
GoldenMine is excited with the assortment of engagement rings it now offers its customers. When browsing through its website, customers will find more ring options with varying diamond cuts, styles, and metals than in most internet jewelry sites. These customers will also find that the company still maintains its competitive prices and excellent quality.
Visit GoldenMine today and check out its new selection of engagement rings at www.goldenmine.com/engagementrings/.
About the Company:
Established since 2001, GoldenMine, Inc. is an online retailer offering a large selection of quality jewelry from around the world at competitive prices. With over 20 years of experience, the company strives to bring unbeatable value, high standard service, convenience, and selection. GoldenMine's mission is to provide the best customer experience through three golden values: Quality, Service, and Trust. Based in Los Angeles, CA, GoldenMine can be found online at www.goldenmine.com. Phone: 1-800-619-1375, Monday - Friday from 9:00am to 5:00pm PT.
Press Release distributed by PRWeb - http://www.prweb.com/releases/2010/07/prweb4279164.htm