As you look around, do you notice more and more women wearing chains and bracelets that are made of gold or gold-esque without pendants? Mainly, men wear these necklaces, and yet, these beautiful pieces of jewelry are quickly becoming popular with women and even celebrities - from film star Jennifer Aniston and pop star Rihanna.
Gold is a classic metal that holds its value better than most. Many people think they cannot afford this type of jewelry because it is so expensive. But if you shop smart, you can easily accessorize your outfit with beautiful chains that doesn't stretch your budget.
Why Chains?
People strive to look their best, no matter their fashion styles, even during a down economy. Chain necklaces, especially chunky, metallic chains, worn without pendants appear elegant, strong, and luxurious, so these qualities draw more and more women to these accessories.

Benefits Of Gold Jewelry
It is no coincidence that gold has always been a popular type of metal to use for jewelry. It has been used for jewelry for several centuries and still retains its popularity. Listed below are just a few reasons why gold is still so popular.
It is available in two different colors. You can opt for regular gold, which is the yellow color, or have your gold treated to a white gold that looks like silver but is as valuable as gold jewelry.
Gold retains its value better than most metals over time.
Simply put, it's a beautiful metal, and most women love to sparkle.
It can be melted down and reused into a newer piece of jewelry.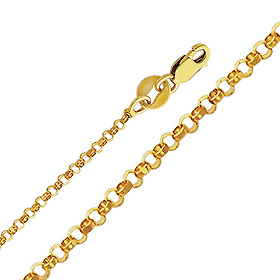 These are only a few of the reasons that you may have noticed that more and more women wearing chains and bracelets of gold.
Buying Gold On A Budget

While buying gold jewelry may feel impossible when you are on a budget, there are a few ways to find affordable gold that is just as beautiful as the most expensive pieces. For instance, shopping online may help you to save money. You may also choose to have an old piece of gold melted down and made into something new. This is a great way to utilize the gold you already have into something more fashionable and modern.
When you see women wearing gold chains that catch your eye, don't give up on owning a few pieces yourself because you can't afford it. With a little extra effort, even the tightest budget can include a few pieces of beautiful gold jewelry.
First photo was taken by Christina Dickson and complies with CC by 2.0 license.