Yes, as the title says, gold chain necklaces are beautiful and versatile. Otherwise, instead of offering hundreds of gold chains, GoldenMine would sell much less. Gold chains offer more than just beauty - it can be worn with pendants, alone, or with other necklaces and chains.

Gold chains have been a popular trend for a long time...starting from many centuries ago. Back then, necklaces were made of various animal body parts, such as bones, teeth, claws, and various types of stones. Cavemen even collected mollusks and strung them together to create an ornament that is believed to have been worn around the neck. Then, with the introduction of precious metals, people started making necklaces with them. Around 2500 BC gold became one of the most popular metals. Many cultures began to incorporate this precious metal into their jewelry designs. Ancient Egyptians were well known for their elaborate use of gold jewelry, including necklaces and chains. During ancient Roman times, women were only allowed to wear gold chains were often buried with the dead.
Many cultures regard gold as being very valuable since the beginning of history. Because of its value, many people use gold as a status symbol of wealth and power for thousands of years. Gold was often decorated with fine jewels and diamonds and worn by both men and women throughout history. At one time, ornate gold chains signified upper class status while plain ones indicated the wearer belonged in a lower class.
Today, you certainly don't have to be royalty or even upper class to enjoy wearing high quality pieces of gold jewelry. Many people have at least one gold jewelry item, often a gold chain that can be worn alone or with a pendant. While pendants often accompany gold chains, the sheer beauty of gold and workmanship makes it beautiful to be worn alone. Sometimes the designs are very ornate or very wide to be worn with a pendant and meant to be worn alone. Gold reflects light and produces a striking sparkle unmatched by other metals.
Men and women tend to choose different chain styles. Some of the most popular chain styles for women are thin, delicate chains, about 1.5mm or less, that can be worn with pendants, such as snake chains, box chains, rope chains, and link chains. Whereas women prefer thinner chains, most men prefer thicker gold chains with a more masculine look. Because men's pendants are much larger than women's, they can even be worn with a larger chain. Gold curb chains, mariner chains, and figaro chains are some of the most popular men's chain styles. Yet, any of these styles look just as good when worn alone as they do when paired with a pendant.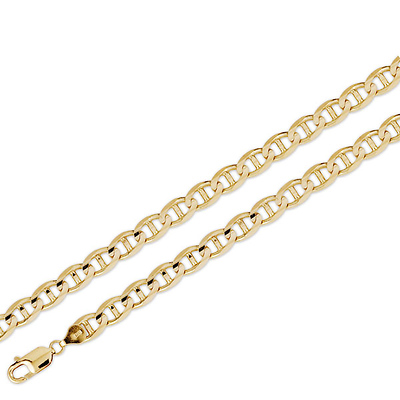 If you can invest in one or two high quality gold chains, you can create an endless amount of unique chains simply by adding various pendants or even wearing multiple chains together. Or if your budget limits you to one great gold chain, you might want to consider purchasing one that can be worn with pendants or style that you like the most.
No matter what style of jewelry you love, there's a gold chain design that will fit your personality. Whether you want a plain simple chain, or an elaborate gold chain with a unique design or gemstones, you'll find an endless amount to choose from. There are so many different beautiful designs of gold chains that most people simply have to have more than one in their jewelry collection.
Find out more about different gold chain styles by browsing GoldenMine's chain collection here.