You need not be a leprechaun searching for your pot of gold at the end of the rainbow to be able to own some gold. Granted, the price of gold has sky rocketed in the last couple of years, but gold is one of the safest investments you can make. Many people look to buy gold as a retirement plan; the best thing about investing in gold is that you can wear it whilst the price increases. Gold bracelets, rings, necklaces have all become a hip fashion accessory worn by people of all ages and sizes.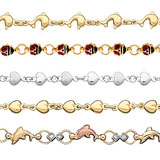 Gold bracelets are one of the most popular gold accessories. It can be traditional or compliment the personality of the person who wants to wear it; it can be funky and trendy. People around the world wear gold bracelets; it is a sign of wealth and prosperity. The good thing about gold is that it can look loud and eye-catching or subtle if you like it like that as well. Gold bracelets can be worn with dresses, gowns, men's suits, or even something casual. The gold bracelet style all depends on the design you choose.

Gold bracelets come in various designs, and the more popular choices are the following:

1) Chain bracelets: chain bracelets are bracelets that are made up of interlocking links that can be worn everyday. You can choose from the trendy styles such as Mariner, Cuban Curb link, and Figaro.

2) Charm bracelets: like the name suggests, these bracelets have little, dangling charms that can be worn to bring a little bit of luck to your day. Women love to wear charm bracelets, as they are very pretty and delicate.

3) Fancy bracelets: these are bracelets have elegant, intricate craftsmanship that are worn for formal functions. You can choose from a variety of Tennis bracelets, Pearl bracelets, Gem bracelets, and Diamond bracelets.

4) Men's bracelets: contrary to belief - men love to wear gold, and judging by the choice available, there are lots of men who are buying gold bracelets for themselves.

5) Fashion bracelets: this is for the girl who wants gold to be an everyday fashion accessory. There are so many options to choose from, now you can wear gold everyday without it looking drab and boring!

6) Bangle bracelets: bangles are one of the most common accessories there are, and to invest in gold bangles bracelets is like having your cake and eating it too. Bangles come in various styles; select one that you know you must have.

The best thing about gold is the variety available. If you are a lazy shopper and hate entering a store, no problem! Just go online and browse thought the huge catalogs available. You are sure to find something you love. Choose a site that has been around for a while and has enough testimonials by satisfied clients, so that you are ensured that it's very safe and secure. This way, you don't need to worry about the authenticity of the product. Just choose any gold accessory such as gold bracelets, bangles, rings, or necklaces you like. The choice is yours!