For thousands of years, rubies reigned as the undisputed king in the world of gemstone jewelry. They have a magnificent color that radiates passion and power. Rubies' hardness only ranks second to diamonds. It's considered to be one of the most valuable gemstones in the world. And, they are one of the most popular stones for people of all ages.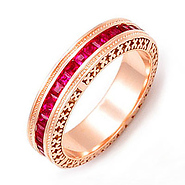 Rubies are some of the most expensive gemstones and at one time were considered as the most valuable gems known to man. In fact, around 1550, it was reported that a fine one carat ruby was worth eight times as much as a one carat diamond of the same quality. Even today large stones are very rare and comparable with diamonds in value.
Many people believe that they are also the most powerful gemstones in the world. World leaders, royalty, and priests widely use rubies for several reasons. Some believe they give guidance in making wise decisions and help improve the wearers' outcomes in disputes and controversies. Burma warriors believed so strongly in the rubies' powers of protection that they wore them under their skin.
Wearing a ruby ring is said to bring people good health, peace, wisdom, wealth, and true love. Ancient folk lore even credits the ruby with having the power to reconcile lovers' quarrels. A ruby placed underneath a pillow will keep bad dreams away, and it's even believed to increase people's courage to their full potential.
Rubies were featured on celebrities and in movies. Jaqueline Kennedy Onasis favored colorful gems, including rubies, over diamonds. Her 17.68 carat ruby ring sold for $290,000 at an auction. She also had ruby earrings that sold for $360,000 and a cabochon ruby necklace that sold for $247,500. In the Alfred Hitchcock's film, Stage Fright, Marlene Dietrich wore a ruby bracelet that sold at a Sotheby auction for $990,000 and a 27.37 carat Burmese Ruby ring that brought an amazing $4 million.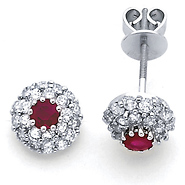 While the finest quality rubies can cost as much as $10,000 per carat, the 15.97 Mogok Ruby sold for almost $225,000 per carat. Thankfully, you don't have to be wealthy to enjoy rubies. There are so many beautiful, affordable ruby jewelry pieces available that anyone can add one of these enchanting gems to their collection.
Ruby is the birthstone for July and it is also used to celebrate the 15th and 40th wedding anniversaries. But, it certainly doesn't have to be limited to these occasions. A beautiful piece of ruby jewelry is the perfect gift for any anniversary, birthday, or Christmas. And, it's especially perfect as a Valentine's Day gift.
Because rubies are associated with passion and love, they are the perfect gemstone for heart-shaped jewelry. If you want to really show someone how much you love them, give them the gift of a 14k gold heart shaped ruby and diamond pendant. You can even add a pair of ruby and diamond earrings to make a complete set that she'll treasure for years to come.

Check out our ruby jewelry collection at GoldenMine.com and see why rubies are the gemstones of fire, passion, and love.