Although diamonds are termed as a girl's best friend, cubic zirconia (a.k.a. CZ) can come pretty close. Cubic zirconia jewelry quickly became the most popular diamond jewelry alternative on the market. Gemologists even agree that cubic zirconia comes closer to matching a diamond than any other gem on the market.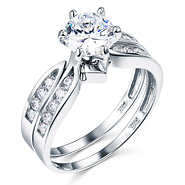 No other synthetic gemstone available today has a more significant impact on the jewelry industry than the cubic zirconia. German scientists first created the stone in a laboratory in the 1930's. At the time, the stone was deemed to have no scientific or economic value, and it was only created in very small amounts.
In the 1970's Russia needed more natural rubies to generate laser beams. Scientists began to search for a synthetic alternative with the same properties of rubies. They filled this need by perfecting the method for creating cubic zirconia and developed the stone we all love today. While they weren't like rubies, they did serve the purpose optically.
At first glance, some experts have a hard time distinguishing between a real diamond and a cubic zirconia. It's only with closer inspection using a bright light and magnifying lens that the differences can be seen. Diamonds contain small flecks of carbon and tend to have a yellowish tint. Being synthetic, cubic zirconia is generally flawless.
There are several other differences in cubic zirconia and diamonds, but the main difference is of course the price. The very affordable price combined with their amazing diamond-like beauty is what made cubic zirconia jewelry so popular. There are few people that don't have at least one piece of cubic zirconia jewelry in their collection.
Today, cubic zirconia comes in a wide variety of colors such as red, blue, yellow, pink, purple, and black - following the latest trend in colored diamonds. However, the clear diamond-like stone is still a top favorite. If you're shopping for jewelry on a conservative budget, cubic zirconia is a perfect choice. The affordability allows you to purchase numerous beautiful pieces for much less than one diamond piece.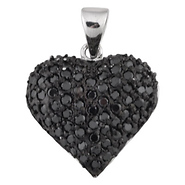 There's an almost endless amount of sterling silver jewelry that contains cubic zirconia. The lower cost of sterling over other metals and the expensive look of cubic zirconia makes this combination very attractive. A silver CZ heart charm necklace will look just as good as one in white gold and diamonds that costs ten times as much.
If you are planning to get married and are unable to afford thousands of dollars for a diamond wedding ring set, choose a cubic zirconia set instead. There are a lot of gorgeous gold CZ wedding ring sets to choose from, and you can update the stone to a diamond or other precious stone in the future. Plus, they look so real that no one but you and your bride will be able to tell the difference at first glance.
Cubic zirconia is a high quality synthetic stone that can give you a lifetime of enjoyment. They are very durable with a hardness scale of 8.5 to 9.0 compared to a diamonds hardness of 10.0. While CZs are a diamond alternative, they are an ideal way to get the look of a real diamond without the high cost.