Celtic jewelry is a tradition that began over 2,700 years ago with the Celts. These mysterious people lived in what is modern day Europe. They used interwoven knots and intricate designs to create beautiful pieces of sterling silver jewelry. These same designs were also used to decorate clothing, markings for graves, swords, shields, and often, their bodies.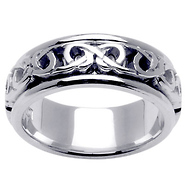 Celtic artisans used ideas from nature to create sophisticated jewelry pieces made from silver, bronze, and gold. The modern styles of Celtic jewelry are very similar to the ancient designs that played a large role in the everyday lives of the Celts. They had a love and passion for jewelry making that has been passed down over the centuries.
Although Celtic designs are beautiful on their own, much of the attraction lies in the symbolism each design holds. However, because the ancient Celts left very little written history, many of the meanings have simply been handed down through history. For this reason, the true meanings may never be known.
While the Celts created all different types of jewelry, one of the most popular is Celtic rings. Even today, these unique pieces are almost as popular as they were in the days of the Celts. Recently, Celtic wedding rings became a very popular choice for couples that want unique wedding rings that symbolize their spiritual bond.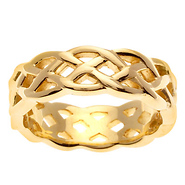 One of the most popular Celtic designs is the Celtic knot, sometimes referred to as the endless knot, or mystic knot. Celtic knots started appearing just after 450 A.D. and their exact meanings are vague. However, since there is no beginning and no ending, they can represent an uninterrupted life cycle.
Any knot design that has no visible beginning or ending can be called an eternity knot. Likewise, any knot design can be referred to as a lover's knot, but most commonly these knots are designs where two separate paths are linked together. During the later part of the medieval period, heart knots were introduced into the Celtic designs.
In ancient times, gifts that were adorned with Celtic knots were given to enhance longevity and good luck. They are often used as a charm to ward off sickness and ensure a stable and calm life. Whether or not these designs actually hold any magical powers lies in the heart of the wearer. Yet, you certainly don't have to believe to cherish Celtic jewelry.
Check out our stock of Celtic rings here and own one of these beautifully crafted pieces of jewelry today.