Traditionally, the old fashion rules say to wear the same metal jewelry - even the same metal color – together and never mix gold and silver jewelry or different metals together. For example, if you wear silver earrings, only wear other silver jewelry accessories. If you wear yellow gold bracelets, only wear yellow gold jewelry accessories. And if you wear white gold rings, only wear other white gold pieces.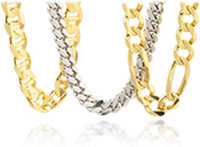 However…we say you can BREAK THOSE RULES! Many people, fashionistas, and celebrities keep "violating" the traditional fashion rules. You see fashion magazines with pictures of models wearing styles that ignore these rules. Last fall, I saw many people pairing brown and black clothes together, wearing white jackets after Labor Day, and layering different yet complementary necklaces and bracelets together of different metals and jewels. The important thing to remember is that what you wear has to complement each other in a fashionable way.
In fact, we noticed that the demand for two tone gold jewelry increased over the past couple of years with no signs of decreasing now, so why not wear silver and gold jewelry accessories together? Wearing both yellow and white metals creates a dynamic metallic effect, bringing in warm and cool colors together that catches the eye in an attractive way. If you wear all one color, especially yellow gold, it can create a very intense metallic look that can be too much and too indulgent to the eye and can appear very gaudy. The combination of silver and gold cuts down this intensity, creating luxurious yet very pleasing style that works for both day and night.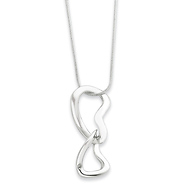 Remember, both gold and silver are precious metals that get traded in the stock market. Your gold and sterling silver accessories hold financial investment. While gold costs a lot more than silver, silver is still considerably valuable and provides an affordable option for fine jewelry. Because they are precious metals, combining them creates a high quality jewelry statement.
Wearing a mix of metal accessories should be well thought out to make sure that everything matches and harmonizes well with your wardrobe. The best way to wear gold and silver jewelry is to have layers of gold and silver chain necklaces and/or silver and gold bracelets. Vary the widths of the necklaces and bracelets to create an intriguing, fashionable look. If you have a two tone gold wedding band or other two tone accessory, feel free to wear any type of accompanying silver or gold accessories. The other jewelry items can be of one single metal if you already have one two tone jewelry piece. Remember to make sure your jewelry accessories complement each other and your attire.
So, if you want to break tradition and embellish yourself with silver and gold jewelry together, go right ahead and do so without hesitation! Some fashion rules need to be broken to create a fabulous look anyway.
Start mixing your metals today at GoldenMine! To browse our Gold Jewelry Collection: Click here. To browse our Silver Jewelry Collection: Click here.
Do you think gold and silver jewelry go together? Please share your thoughts in our Facebook page!