You've found the one you want to be with. They're everything you imagined and more. You're going to marry the love of your life and you want everything to be absolutely perfect. You wouldn't necessarily call yourself "traditional" when it comes to wedding bands, though. You want a style that reflects who you to the core: bold, wild, and free. Camo wedding rings are just what you need!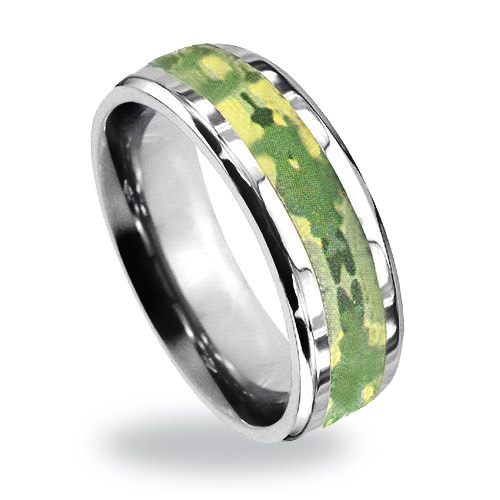 Featuring a variety of camouflage-inlay designs, these camo rings express men and women's interest in the military, outdoors, and/or rugged style. When it comes to a lifetime commitment, you want to say what you're feeling with the picture-perfect wedding band. That's why we offer stylish, alternative wedding bands that are sure to get you noticed. Made with contemporary metals such as tungsten and ceramic, now you can have exactly what you're looking for at affordable prices.
Our 8mm Titanium Desert Fox Camo Wedding Rings are made with durable and strong titanium. We've got an 8mm Titanium Hunter Green Camo Wedding Ring that's going to look great with your entire wardrobe. Our 8mm Black Ceramic Forest Foliage Camo Wedding Rings are just what you need if you're pulled to a more natural look. The fresh foliage on the black band is incredibly distinctive.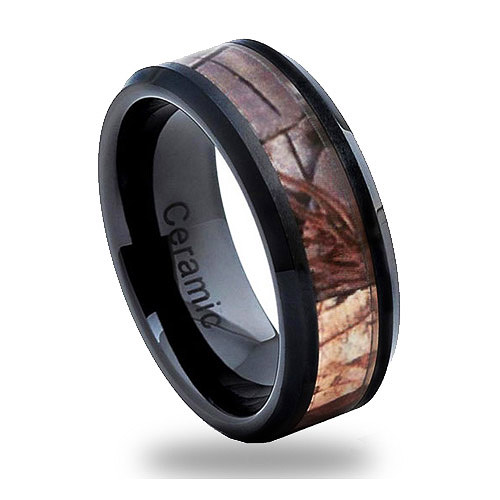 With the 8mm Black Ceramic Commando Camo Wedding Ring, you can have a contemporary ring that's sure to catch everyone's attention. Our 8mm Tungsten Military Green Inlay Camo Wedding Ring with a nicely polished finish has a stylish inlay design ornamented with military green camouflage. We also have a 8mm Black Ceramic Army Green Inlay Camo Wedding Ring with a modern black finish.
Affordable, modern, and stylish, your loved one will be thrilled to receive one of our unique wedding bands. When you buy one of these beautiful wedding bands, you'll also receive a leatherette ring box for free. We also offer laser engraving to add a personal touch to these wedding bands.
Stand out and get noticed in jewelry that's as proud and perfect as the love you share. Get our camouflage wedding bands now and be prepared to show off this special piece to your family and friends for years to come.
Browse our new camo rings here and see why these rings are becoming more and more popular with men and women.