The moment arrives. Down on one knee, a nervous guy asks his lovely gal to be his bride. He flashes the ring, and the gal discovers it's not a diamond but a cubic zirconia. Is she disappointed? Is she irate? Does she say "no?" She certainly does not! CZ engagement rings are becoming more and more popular. Many individuals prefer the man-made beauties over the more expensive diamond and not just because of the difference in cost. Here are just a few reasons cubic zirconia (CZ) are gaining popularity: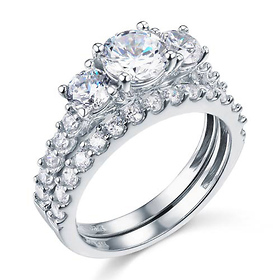 Cubic zirconia can possess quality similar to diamonds.
They are not involved with the conflict-diamond-plight that plagues many African nations.
Cubic zirconia is becoming more popular among celebrities and dignitaries.
They are considerably less expensive than diamond jewelry.
Similarities among CZ engagement rings and diamond rings
One major appeal to the cubic zirconia is that it possesses qualities similar to diamonds. Many individuals are not trained to know the difference with the naked eye. Just as real diamonds are graded by the four "C's," cubic zirconia can possess the same qualities. The following four components are examined when determining the value of a diamond:
cut
clarity
color
carat weight
Man-made cubic zirconia can vary in these four areas as well. Not all possess the same clarity or color, they come in a variety of sizes, and they can be cut and shaped in different ways. A cubic zirconia that is made well will look very similar to a diamond.
Cubic zirconia and conflict diamonds
Two-thirds of the world's diamonds originate from western Africa, a place that is known for diamonds that are mined in war zones. These diamonds can be sold to fund terrorist activities and can cause the shedding of innocent blood. Because cubic zirconia is man-made, it does not contribute negatively to conflict diamond activity. In fact, it can help to prevent it. Brides-to-be can rest assured that the purchase of their CZ rings wouldn't have funded terrorist activity nor would it have been used to cause undue bloodshed and violence.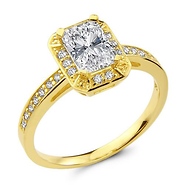 A popular choice among celebrities and dignitaries
It is not surprise that the new princess, Kate Middleton, is watched like a hawk for her fashion sense. At her recent appearance at the Queen's Diamond Jubilee, Princess Kate wore cubic zirconia earrings. It was an event whose namesake might have encouraged the display of diamonds, but Kate chose cubic zirconia instead. It is a popular choice, and CZ engagement rings are also becoming more and more popular.
Less expensive
Another great benefit to a CZ ring is that it can be a lot less expensive than a diamond ring. When considering the similarities between diamond and cubic zirconia engagement rings, it might also be a good idea to consider the cost. Both can be set in precious metal, both can be striking to look at, both are popular. But only one is conflict free and cost friendly.
Have any comments or questions? Please share in our Facebook page!