Drama, mystique, darkness...qualities that can describe black onyx jewelry. Generally, this gemstone, black onyx, increases in popularity during this time of the year as the nights become longer and can be worn during autumn and winter. Besides complimenting the darker, jewel-toned colors people tend to wear during this season, some may be drawn to the onyx's apparent properties.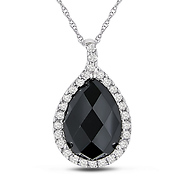 One such property is the black onyx's protective powers, enabling wearers to become have a grasp of their own fates. Many people believe that it is one of the most powerful of all the protection stones. It's said to absorb all the negative energy around the wearer and transform it into positive energy. There are many beliefs and myths about black onyx that date back to ancient times.
Onyx jewelry is often worn for its healing powers. Among other medical conditions, it's believed to help with kidney, heart, nerve, and capillary problems. Many claim that it will help relieve stress, improve eyesight and even help you sleep. However, most people wear black onyx jewelry for its sheer beauty and dark, mysterious look. And, for the fact that black matches well with so many other colors.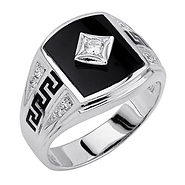 The Ancient Egyptians, Greeks, and Romans considered black onyx to be very valuable. Today, however, it is much more common and very popular due to its affordability. Black onyx is used in almost every type of jewelry from necklaces and bracelets to rings and earrings. There are few women that don't own a piece of black onyx jewelry, or hasn't at least had one at one time or another.
Even those who don't believe in the mystical powers of black onyx love the stone for its alluring beauty and class. This gemstone looks great in both men and women's jewelry and compliments other gemstones, such as diamond rings. GoldenMine sells an assortment of onyx jewelry in yellow and white gold. Shop for onyx jewelry here!