Whether or not you celebrate your birthday in November, the November birthstone, citrine, is a beautiful gemstone to wear in the fall. Ranging in color from pale yellow to a translucent light brown, citrine brings to mind the widely ranging colors of autumn leaves. It's the perfect gemstone to add to your fall jewelry collection.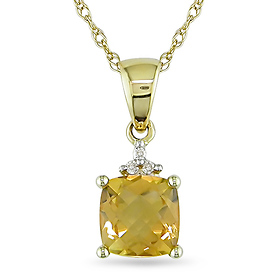 Citrine is also accepted as the gemstone of choice for 13th and 17th wedding anniversaries. Naturally occurring citrine is pale yellow in color, and much rarer than the more popular heat-treated citrine which has a reddish tint, resulting in the rich dried leaf colors ranging from light red-yellow to reddish-brown. The affordability of this interesting gem means that you can have several pieces in a variety of shades to complement your autumn wardrobe. As an alternative to citrine, yellow topaz is also accepted as a November birthstone, and is more valuable. However, many people prefer citrine due to its range of shades and affordability.
This fall's layered look means that you can sport a fashionable scarf and coat while still having the option of wearing jewelry underneath. Don't opt for a minimalistic look indoors after you remove your scarf when you can show off a citrine pendant. Jewelry crafters are coming out with all kinds of exciting new designs in necklaces, earrings, bracelets, and even watches that showcase the gem's gorgeous yellow and red hues. A glittering yellow citrine or topaz will look stunning when matched with gold-toned jewelry and popular fall fabrics in browns, reds, and tans. The old, antique look is in this year, which takes advantage of the citrine's traditional popularity as a pendant.
Jewelers and fashion-lovers alike are celebrating the colors of autumn's changing leaves with the beautiful shades of citrine and topaz. Citrine's affordability makes it possible for anyone to enjoy the November birthstone. If you're looking for a fall birthday gift or want to update your jewelry box for the season, you can't go wrong with fall's new jewelry styles in citrine.
Browse GoldenMine's citrine jewelry selections here.