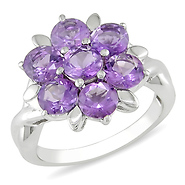 Semi precious gemstone rings are an affordable way to purchase beautiful heirloom jewelry. Such rings are usually set in real gold of 10k or more, and the stones are often indistinguishable from more expensive precious gemstone jewelry.
Some of the most popular semi precious gemstones in rings include topaz (blue, smoky, yellow or other colors), garnet, and aquamarine. Several gemstone rings combine different types of stones for a festive, multicolored appearance. Semi precious stones are more fragile and scratch more easily than precious stones such as diamonds, but if you take care of them they should last a long time.
We offer a gorgeous range of top quality, colored semi precious gemstone rings at highly affordable prices at GoldenMine.