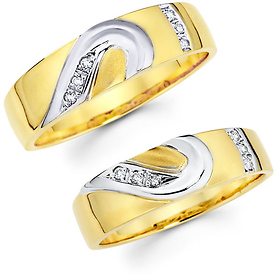 Matching heart wedding bands make a great choice for the bride and groom who want to show their commitment through their wedding bands. Like other wedding band sets, these match, but each design contains half a heart.
When the bands are placed next to each other, the whole heart shows, symbolizing how the couple complete each other. Heart wedding bands are one of the most romantic matching wedding bands available today.
We have beautiful matching heart wedding bands at prices which are below retail.
Related Item - Matching Heart Engagement Ring Set: Check out our matching heart engagement ring set here! This bridal ring set is similar to the wedding band set but includes an engagement ring and matching wedding ring.