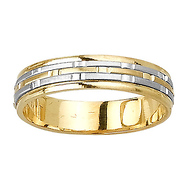 Man's wedding rings have come a long way since the days of the plain gold band. Though these are still available for those who prefer them, the modern groom has an incredible number of choices in wedding bands.
Newer options in man's wedding rings include wedding bands that match the bride's, modern metals like tungsten and titanium which cost less than gold but have a futuristic, masculine appeal, and even versions accented with diamonds, sapphires, or other gemstones.
We have a wide variety of wedding rings for men in all styles at affordable prices at GoldenMine.