Browse Wedding Bands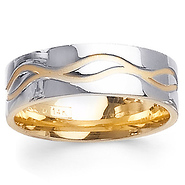 What can be more beautiful than a hand made art carved wedding band? Not much, really. Art carved wedding bands offer as much love and uniqueness as the love you share with your spouse-to-be. Check below for a list of different artistic wedding band creations that are available to you:
Celtic Carvings- Many people have an affinity towards Celtic traditions. Like many other cultures, Celtic beliefs including the notion of eternal life bound by nature. Celtic art carved express this sentiment using ribbons and braids intertwining. These designs represent the union of two separate beings that form together to create a new, never ending, entity.
Native American Art Carvings- Although different Native American tribes produce differing jewelry, they all emphasize the importance of nature and commitment in their jewelry. You can often find animal carvings such as bears and eagles. These carvings represent the wearer or marriage taking on the characteristics of the animal.
European Carvings- Another interesting art carving that's good for wedding bands involves elaborate designs that mimic gothic cathedrals during Medieval Europe.
If these ideas appeal to you, consider making your own design and have your jeweler engrave it for you.

Shop for Wedding Rings and Wedding Bands Now


Browse Wedding Bands