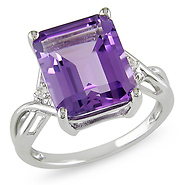 Amethyst jewelry refers to jewelry which includes the semi-precious gemstone, amethyst. Amethysts are most often used in silver and gold rings, although amethyst bracelets, earrings, and necklaces exist as well.
Traditionally, amethysts are said to protect the wearer. The stone is a variety of quartz with some form of violet or purple tint. Amethysts are a great choice for gold and silver jewelry because they are relatively inexpensive compared to other gemstones such as diamonds, rubies, and sapphires, while still yielding a highly beautiful and striking rich color.
We offer a wide selection of affordable amethyst and gemstone jewelry in all price ranges.