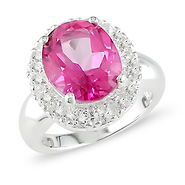 Affordable gemstone rings are a popular choice for fashion jewelry because they insert a little bit of fun and style into your wardrobe without breaking the bank. An inexpensive gemstone ring can be any ring which incorporates less expensive gemstones, semi-precious stones, or factory-made stones.
If you are looking for reasonably priced, precious gemstone rings, consider rubies or sapphires that may be heat-treated to improve their color, but the difference is almost never noticeable to the naked eye. Semi-precious gemstone rings make an excellent alternative and exude vibrant colors, such as blue topaz and citrine. Also, quality factory-made stones such as cubic zirconia can also present an attractive appearance.
We have a great range of affordable gemstone rings of all materials in order to ensure you never have to compromise quality for price at GoldenMine.