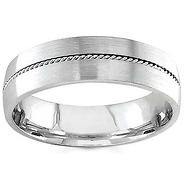 White gold rings make an excellent addition to any jewelry wardrobe because they go well with modern accessories that include silver hardware.
A white gold ring gets its color from the elements that are blended with pure gold in order to make the metal durable enough to work as jewelry. White gold rings for men and women can range from the classic, such as settings for traditional-style engagement rings, to modern artistic designer bands.
Whether you're looking for a white gold engagement ring, a fashion ring, or something elegant, we have a wide variety of top quality white gold rings available at inexpensive prices.