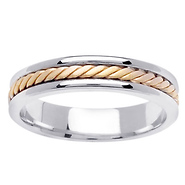 A gold ring is one of the most common items in a jewelry box because it is an incredibly versatile piece of jewelry. Gold rings make great gifts. They appeal to a wide range of tastes and hold their value in today's uncertain economy.
To qualify as a real gold ring, a piece of jewelry must be in the range of 10k to 24k. 14k and 18k are the most common versions, as they combine purity with durability.
Our site has a fine selection of quality gold rings at below retail prices. Visit our gold ring collection today.