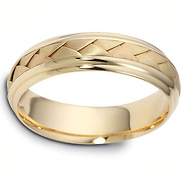 Gold rings are classic gold jewelry pieces that have been used as personal adornment for centuries. Because gold is relatively malleable, their design is limited only by the artisan's imagination.
Gold rings can be yellow, white, or rose in color, and range from 10 karat gold to 24 karat gold. Karats measure how pure the gold is, with 14k and 18k being the most popular choices for gold ring jewelry.
We offer a wide variety of high quality gold rings in all styles at below retail prices. They are an excellent choice even in difficult economies because they hold their value.