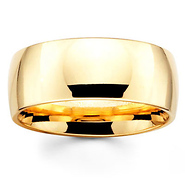 Any jewelry made of real gold that is intended to be worn by a man can be considered mens gold jewelry. Many different types of pieces fit this criteria, including mens gold chains, gold rings for men, and mens chain bracelets.
Mens gold jewelry can be yellow gold, white gold, or two-tone. Yellow gold is the most common gold jewelry color for males around the world with white gold coming in a short second. In order to be considered real gold, the jewelry should have a karat weight of 10 or higher, with 14k and 18k being the most popular.
We sell a wide range of quality mens jewelry at inexpensive prices.