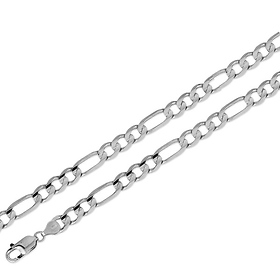 Mens gold chains usually differ from women's by the fact that they have thicker, heavier links. These chains are a popular gift choice because they retain their value in uncertain economic times.
Mens gold chains are available in yellow gold, white gold, two-tone gold, and occasionally tricolor. While you can find examples ranging from 10k to 24k, 14k and 18k gold chains are the most common versions because they offer a good combination of purity and durability.
We carry men's gold chains at below retail prices in all the most popular styles, including Byzantine chains, Cuban link chains, Figaro chains, and Mariner chains.