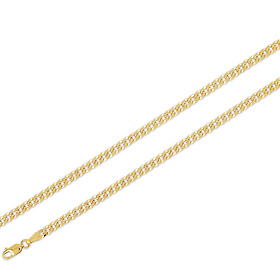 Gold necklaces for men are a popular choice when it comes to men's gold jewelry because they are subtle yet substantial. Men's gold necklaces usually consist of some form of a thick gold chain.
The chain can be yellow gold or white, although white gold chain necklaces are becoming more common. It can also range from 10k to 18k, meaning that there is a gold necklace for men available to fit every price range.
Gold necklaces for men can incorporate plain links or decorative links like Figaro or Mariner style necklaces. We offer a wide selection of men's gold necklaces at highly competitive prices.