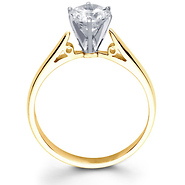 Gold Engagement Ring Collection - Click Here
Gold engagement rings are the most common choice for metal when it comes to engagement rings because gold is a highly versatile metal.
You can find a gold engagement ring in white gold, yellow gold, rose gold, or two tone, giving you a wide variety of choices so that the ring matches with the rest of your jewelry wardrobe. In addition, gold engagement rings come in ranges from 10k to 18k, making them affordable no matter your budget.
Our site has a full range of gold engagement rings of top quality at highly competitive prices.