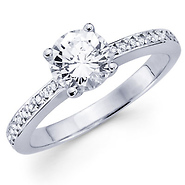 Diamond engagement rings are the most popular choice for engagement rings. Diamonds are classified by the 4C's-cut, color, clarity, and carat weight. (To learn more about the 4C's, click here.)
Round, emerald, cushion, and princess cut engagement ring styles are some common diamond cuts. The closer to colorless the diamond is the better, except for very rare, colored stones like black diamonds. As for clarity, the fewer inclusions, or flaws, the stone has, the better. Carat refers to the diamond's size.
We carry a wide variety of top quality diamond engagement rings at highly competitive prices. No matter what your budget is, you will find a diamond here that suits your needs.
Diamond Engagement Ring Styles